All about our jackets and vests
Buyer's Guide | Jackets and vests

Our Jackets and vests category contains a wide range of additional cloting for specific situations. May it be cold, rain or wind, we got the gear to protect you. It is our mission to make sure you can enjoy every ride, no matter what mother nature throws at you. With the right apparel you will be able to ride every day of the year and return home comfortably. In this buyer's guide we will dive into the different weather conditions you might encounter and how to protect yourself against them with the products out of our jackets and vests category.
When the temperature drops
Cold weather conditions can be quite uncomfortable when riding your bike. It can cool you down very quickly which makes your ride a lot less fun. Good insulating upper body clothing will keep the gross part of your body warm. All our jackets and vests provide you with an extra layer of insulation. Even the thinnest layer can make a huge difference as it adds a layer of material, but also an extra layer of air in between the fabrics.
Take for example our PocketVest; super easy to fold into a very small package due to the lightweight and thin material. Don't underestimate this vest though, it can give you just that little bit of extra insulation to keep you comfortable on the bike. Perfect for changing weather conditions.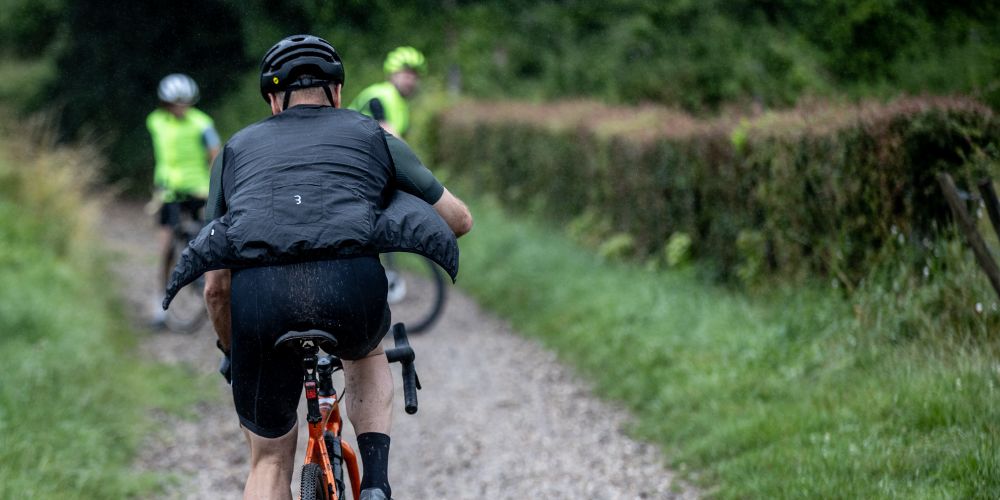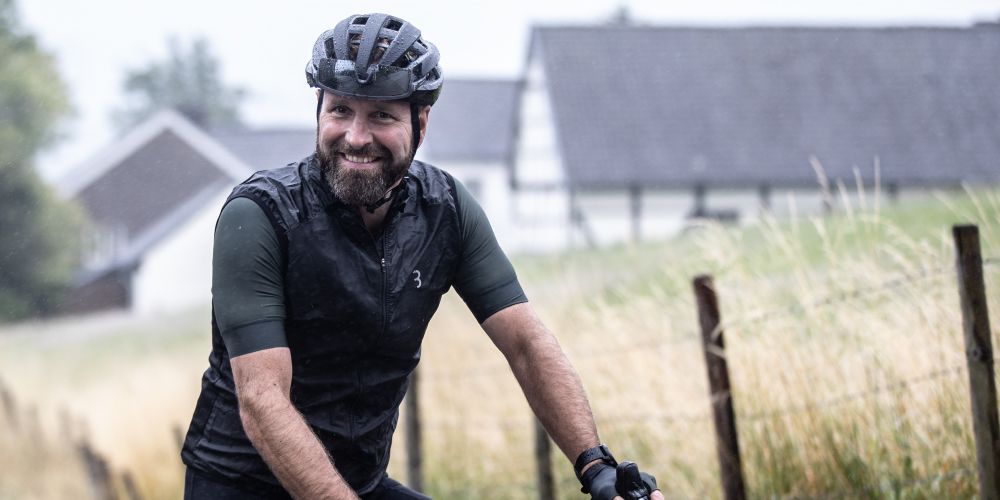 When the sky turns grey
When the sky turns grey, we all know that rain is coming. Getting your clothes wet is not only uncomfortable, but it can also cool you down very quickly! High-quality clothing that keeps the water out will definitely make your rainy rides more fun.
When designing water-resistant, water repellent, and waterproof clothes, the difficult part is to make them comfortable while protecting you against water. Making clothing completely waterproof is not hard; we could easily give your a big plastic bag and your body won't get wet. But a plastic bag is not very comfortable to wear. For example; certain materials that we use in our rain clothing are stretchable, which is very difficult to establish when also trying to keep the rain out. Besides, if clothes are completely waterproof, it will also keep your sweat inside, which eventually makes your body wet anyway!
So, creating a perfect balance between breathability and waterproof performance is very important. Our clothing is designed to pull sweat off your body and push it out of the fabric, and simultaneously keep the rain out. Over our whole apparel range, we use almost 20 different types of fabrics and materials to create the exact specification we are looking for. On our clothing materials page, you can learn more about all these different materials and where they are used for. It is definitely worth reading!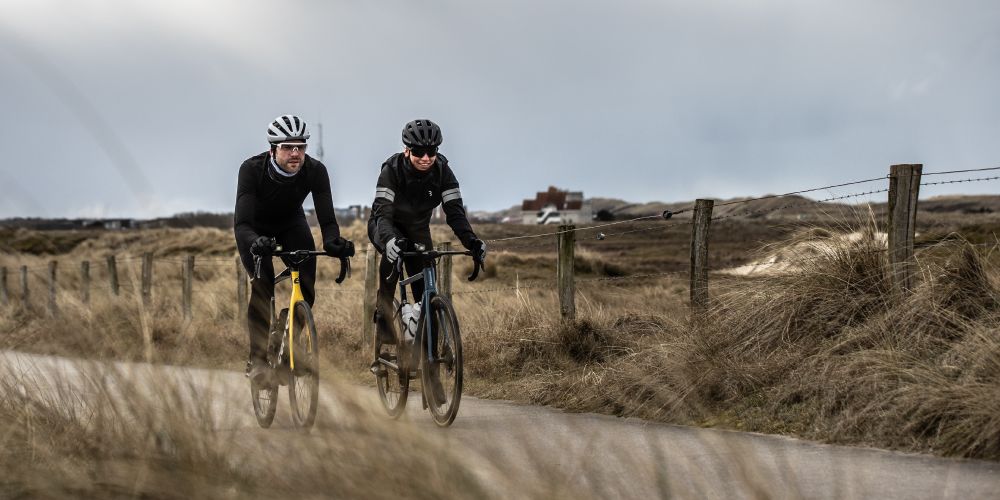 When the wind is raging
Icy wind while riding your bike, we can all feel it! Even though the weather is beautiful, a cold wind can be surprisingly nasty. Especially when you have headwinds, it feels like a never-ending airconditioner that is specifically made to torture you! An extra layer of regular clothing will improve it a bit, but icy winds creep in anyway. What you really need is some windproof clothing, in the end, that is the only type of clothing that can really save you!
Windproof clothing protects you from the wind and creates an extra dimension of insulation. We use high-end comfortable windproof fabrics, but we have taken it a step further. Not only the fabrics are windproof, but we have also added some details to make sure wind cannot creep in at other places.
Take for example our StormShield jacket. The windproof fabric protects you from the wind. The taped seams even protect you against the wind coming through the seams! The specials storm flap behind the zipper holds even the tiniest little bit of wind outside. On the other hand, the wind will not be a problem at the back, as your riding speed always creates a few headwinds. To make sure you will not overheat yourself and start sweating too much, we have added a ventilated back. These are a few of the clever features of our clothing to really stand out in the crowd.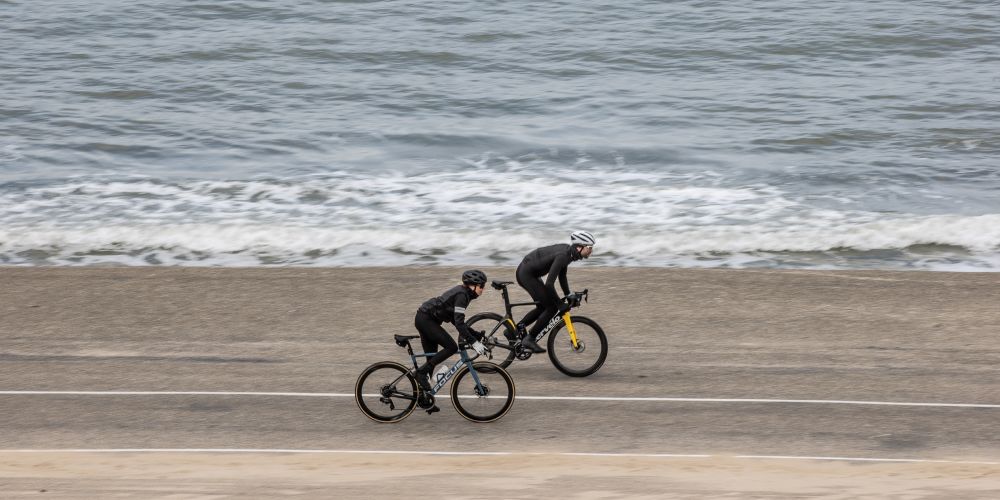 The dark side of riding your bike
With bad weather conditions, it is not only the temperature, rain and wind that make it less comfortable to ride your bike. Also the darkness can make you hesitate to step on your bike. With bad weather conditions, often the dark comes early. We advise everybody to always use lights on your bike in the dark, not only to see, but also to be seen. Besides that, a little bit of extra visibility is never wasted. Our jackets and vests are all equipped with reflection and are often also available in high-visible colors. This way other traffic will be able to spot your easier. This way, our jackets and vests do not only create an extra level of protection against the weather, but also provide you with an extra layer of safety through visibility.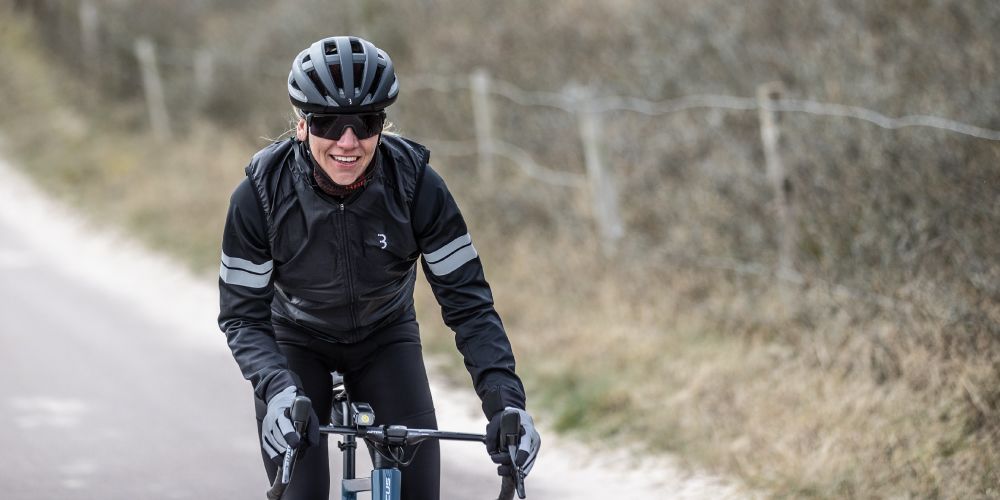 Jacket or vest
When situations reach the extreme, peoples preferences start to defer, and it is important that we meet all those preferences. Therefore we have a wide range of different jackets and vests, all with their own special features and goals. Whether you prefer a jacket or a vest, there is something for everybody! Having the right apparel for different situations makes every ride comfortable and keeps your motivation great, eventhough the weather forecast is less nice! We like everybody to enjoy their bikes, no matter what mother nature throws at you!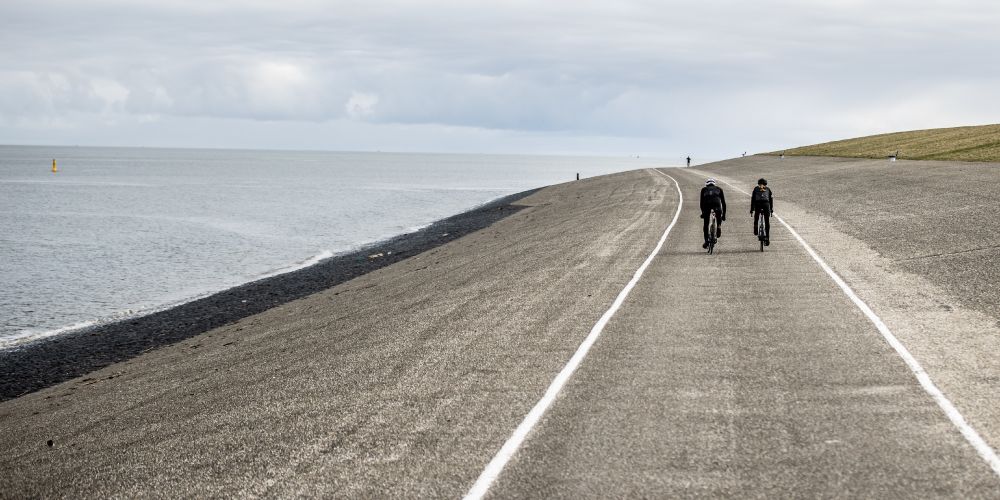 And off you go..!
And with that all said, you are ready to ride your bike in every situation. We have the right gear to get you through it, you just have to pedal. We recommend everybody that has read this buyer's guide to scroll through our range of apparel to discover all the goods yourself. Visit the different product pages and find out what you need and want.