All about our shoe covers
Buyer's Guide | Shoe covers

Sometimes the cold days seems to be never ending! We have got great respect for people that step on the bike in bad weather conditions. Our wide range of apparel contains all the good stuff to help you through those days. Our shoe covers may be the ultimate solution to keep your motivation high on the cold and wet days. As your feet don't move much, they are likely to become very cold, very quick. An extra layer of a high-end shoe cover can make all the difference between a miserable ride, or a happy ride with no hassle. Shoe covers are no excessive luxury in winter, they are a very helpful tool to make all your rides awesome!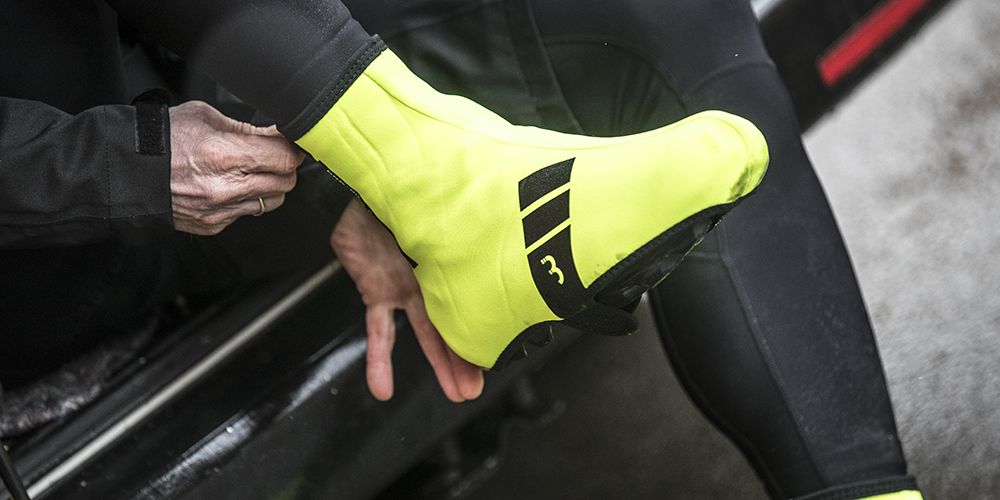 Those cold days
We all know those days that you want to go for a ride, but the weather is keeping you inside. Bad weather conditions can be a hard reality check when you feel motivated to ride your bike. Your legs make a lot of movement on the bike, they will easily stay warm with the right apparel. Your feet on the other hand are in a very static position. Especially when you wear cyclig shoes, your feet don't move at all! Your feet are also located all the way at the end of your legs, which makes it hard for your body to provide enough bloodflow to keep your feet at a reasonable temperature. In conclusion; your feet are the first ones to get cold in bad weather conditions. Therefore, high-end shoe covers are not a luxury, they are a necessity to enjoy your rides. By creating an extra layer of material between the cold air and your feet, they will keep your feet nice and warm.
Although, our shoe covers are not 'just an extra layer'. The vulnerability of your feet means that we have our focus on creating exactly the right shoe cover to keep your feet comfortable. The choice in materials play a big role in this. Over our whole apparel range we use almost 20 different types of fabrics and materials to create the exact specification we are looking for. On our clothing materials page you can learn more about all these different materials and where they are used for. It is definitely worth reading! We have chosen specific materials for our shoe covers that are though, comfortable and insulating. Have a look on the product pages of our shoe covers to discover the the different goals of the different models.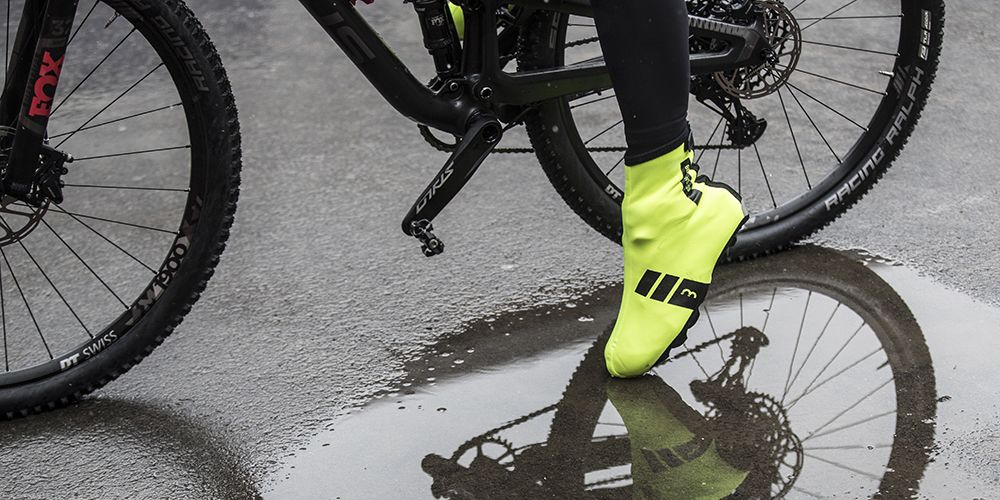 Those rainy days
To make a cold day complete, add a little bit of rain! Unfortunately cold weather often comes with rain, and that makes the day even more miserable. Cold water drains the warmth out of your body, and as it runs down into your shoes, you create a nice little ice pool for your feet in your shoes! To avoid any of that to happen, you better get some water resistant shoe covers! Keeping the water out will not only keep your feet dry, it will also help to keep your feet warm and insulated and protects your shoes. We have some amazing materials that will help you to keep your feet dry. Besides that, our shoe covers are specifically designed with water drainage abilities.
Take for example our welded seams, they make sure that water cannot enter your shoe cover in between the panels on the seams to create a perfectly closed shoe cover. The tight fit around the ankle keeps the water from dripping in from above, and the sides wrap perfectly around your shoes and often even underneath them to avoid water splashing in from underneath. After years and years of research and development we have created a collection that will support you getting out, even on the most rainy days! Have a look at the product pages to discover the differences in material use and water resistance.
Wearing and preparing
Everybody that has ever tried to put on a pair of shoe covers knows that it can be quite a struggle. As shoe covers have a nice and tight fit around your shoe, it can be hard to get them over your shoes. However, we have come up with some clever solutions to make it easier to prepare yourself for your ride. Some of our models have a high-end YKK zipper at the back of the foot. By openeing this zipper together with the velcro strap underneath the sole you can easily pull your shoe cover over your shoe. Another clever solution is the use of tough but stretchable material that can easily be pulled over the shoe and results in a perfect fit! Both solutions are very comfortable for the wearer as the shoe covers are easy to put on, but maintain a perfect fit while riding your bike.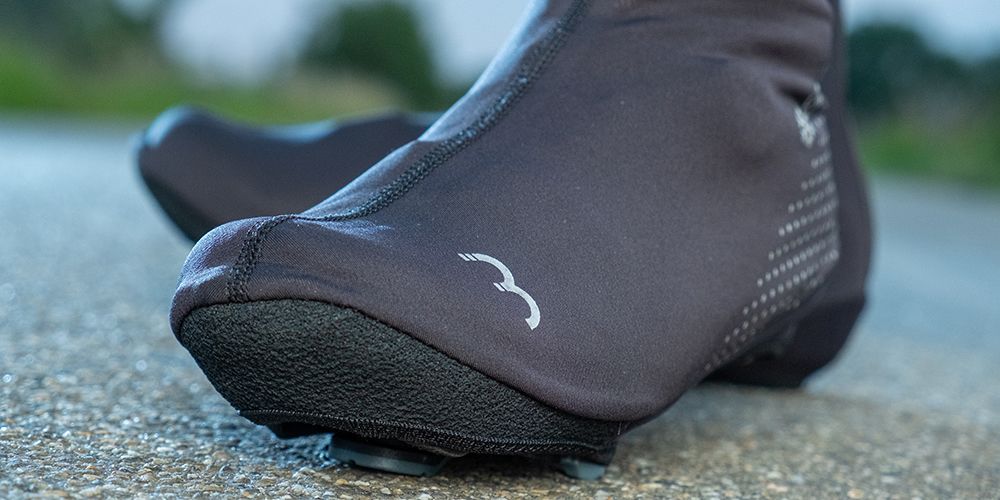 Tough but gentle
Your shoe covers often have a lot to deal with. They are made to protect you against the elements, which means they have to deal with the elements. Besides, mud, rocks, the hard surface of the road and so on, your shoe covers gotta have some toughness in them. Therefore, the materials that we use for our shoe covers have to be strong. We even reinforce the most sensitive parts, like the toe an heels, which are often damaged due to walking. You don't have to worry about them too much anymore, we got you covered by designing our shoe covers to last!
As tough as they are on the outside, as gentle they have to be on the inside! Your shoes are a valuable part of your equipment and we don't want any scratches or rubbing marks on them. Therefore we have minimized the seams on the inside, and used though material on the outside, with a very soft and non-rubbing inside surface. 'Cause we protect not only your feet, but also your shoes!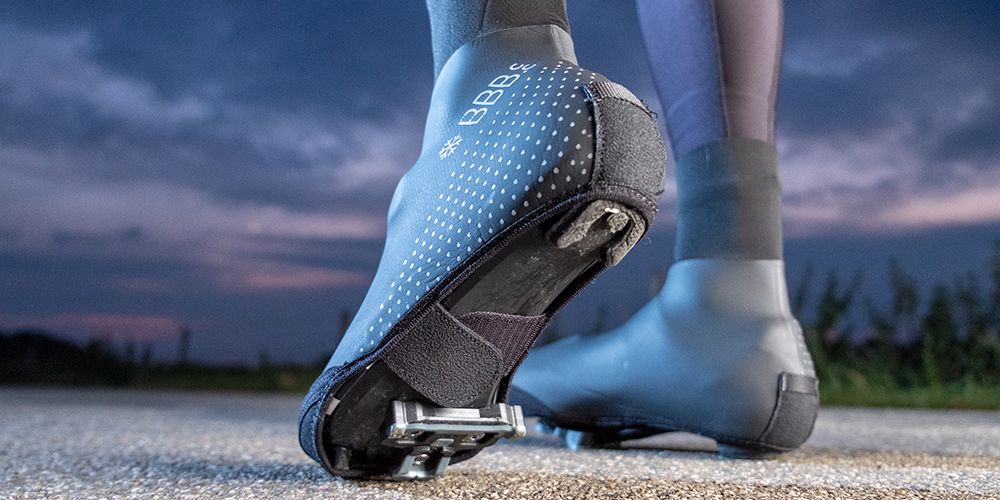 Your next bad-weather ride
So, when the sky becomes grey, the temperature drops, and the wind is blowing, you know what to do! Get your shoe covers out and grab your bike for a ride! In rough conditions you need apparel you can rely on. Our shoe cover collection can protect your precious feet against the elements and will definitely raise your joy on the bike. A good pair of no-nonsense shoe covers is a must-have for every cyclist. We got your back!