Team Jumbo-Visma

Name of the Team
Team Jumbo-Visma
Status
World Tour Cycling Team
Time to raise the bar!
In the professional peloton, it's all about getting enough air into the lungs so that the riders can achieve top performance in every race. But lungs full of air are not enough, which is why we support Team Jumbo-Visma as an 'official supplier'. So, we can also fill those tires with air and raise the bar together. We work closely together to ensure our products meet the requirements of the pros. For example with the 'special edition' AirSteel Jumbo-Visma floor pump.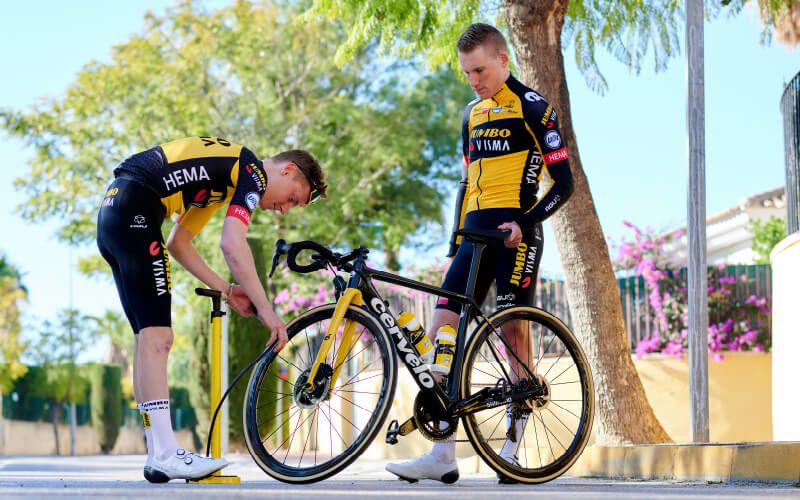 Team Jumbo-Visma
Team Jumbo-Visma is a professional top sports team from the Netherlands that focuses on a combination of cycling and ice skating. The team was founded in 1996 and has a rich history. From 2021, we will work together with the team as 'official supplier'. The focus for the coming cycling season for Jumbo-Visma is on the spring classics, sprint stages, and the general classification in the grand tours. As their official supplier, we strive to support the team in the best possible way to get the most out of their bikes and equipment during these demanding races.
AirSteel Jumbo-Visma
We can't give you some steel muscles, but a steel bike pump is pretty close. The pros of Jumbo-Visma also rather spend their powers in the peloton so they need an easy solution to pump up their tires. That is why we support Team Jumbo-Vism as 'official supplier'.
The AirSteel gives you the strength to pump up these tires easily. It is the steel shaft and foot that are exactly what you need. The big and accurate gauge shows you the pressure you are putting in your tire, and the Dualhead 3.0 pumphead makes sure your hands don't get hurt while taking the pumphead of your valve. Pump your tire up and make those steel muscles yourself!