BECOMING A BIKEPACKER
TEXT / BBB CYCLING | PHOTOS / BBB CYCLING
When do you actually become a bikepacker? Do you need to win an unsupported ultra-race? Do you need to cross a continent by bike? We feel it starts with that first time you strap bags to your bike and experience that feeling of freedom and autonomy that only traveling on your own power can give you.

That's why we invited three cyclists: Aenea, Emily and Berend to go on their first-ever bikepacking trip. They brought their gravel bikes and we provided them with all the bags and accessories to turn their nimble rides into fully packed rigs.

We offer just about every imaginable kind of bag and accessories to make every bike able to carry what you need. For a day, a week or months. Even for smaller frames or bikes not designed to carry a lot, we have solutions to create space and carry the load.

Discover our full range of bikepacking and touring bags, straps and accessories and find out that also your bike can turn into a packing rig. With smart details and premium build quality at a very competitive price point, we have bags that are the perfect choice if you feel like trying this bikepacking thing yourself.
Our bikepacking beginners meet for the very first time at the start in Maastricht at the local cycling hub: Fixed Gear Coffee. After figuring out what parts and bags actually go where, they help each other out and you can feel the excitement for the trip. They manage to pack almost everything they wanted to take along and for the first time, they find out that bikepacking is as much about enjoying the preparation as it is about the riding itself.
The route we prepared for them will take them into the Houtes Fagnes area of the Ardennes towards the heart of the Vulkan Eifel, the picturesque town of Monschau. Along the way, they will encounter smooth gravel trails, some steep hills and even some hike-a-bike sections. They carry their own food and supplies, tents, clothes and tools they might need. This is the first time our adventurers are truly free to go where they want.

They find their way out of a bustling Maastricht and in no time they hit their first gravel sections. Spirits are high and Berend is flying down as he seems to be the most comfortable with the added weight on his bike. He chose to attach the StackPack cradle and bags on the front fork of his bike. Keeping some stuff low on the bike helps with handling as it stabilises the bike. Emily also went for this option in combination with a BarrelPack L, while Aenea uses the Middle Mate to have an easy access option and of course, they all use the Seat Sidekick that Aenea rebrands 'the Ass Rocket' together with the saddle bag stabiliser named the BagBrace.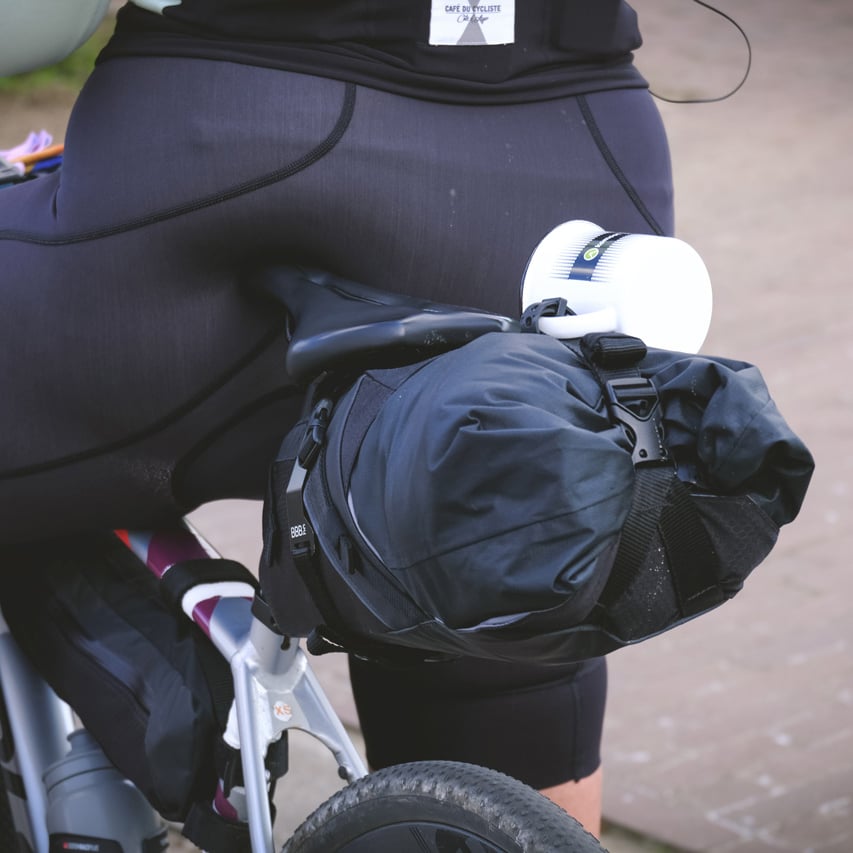 They cross the Maas river by a small cyclist/walkers-only ferry and enter Belgium. Climbing more and more along the way following century-old holloways, a hairpin ascent and some dreamy gravel farm tracks. The kilometres tick by and they enjoy some typical Ardennes vistas while following the border between Belgium and Germany south. Unfortunately, on a technical single-track descent, Emily loses her grip and has a tumble. She gets up again, dusts herself off and makes it to the first village about ten kilometres further up the route. She decides to get into the support car as breaking is becoming increasingly harder for her as the swelling in her hand grows. Aenea and Berend decide to push on towards Eupen, they meet up there in a typical German Stube for a well-deserved dinner and drinks and catch up and share stories. What an intense, beautiful and impressive first day of bikepacking they ever experienced.
But the challenges are not done yet. When they ride the last few kilometres in the dark, it dawns upon them that they will have to make camp in the dark. But working together and keeping their heads cool means that the three tents are up in no time. Some of the team sleep better than others, but at sunrise, their stomachs wake the riders up. They're finding out that bikepacking is also an eating competition.

The second day starts with a much faster packing session. All three riders have learned a lot already in just one day of bikepacking. Almost straight out of the camping gate, the road heads up and keeps rising until they reach the Hautes Fagnes plateau. Besides awesome views, this also means fewer villages or options to eat. And quite some time after lunchtime, they finally find a dodgy-looking kebab place. Their hunger at this point takes over and they just order and sit down on the stairs of the slightly grimy eatery. The food turns out to be top-notch and Aenea feels this spot is one of the highlights of their trip. Spoken like a true packer.
Riding mostly backroads and gravel trails they enjoy the feeling of freedom and lack of stress. It is exactly that emotion that draws so many of us towards traveling by bike. Whether it is for a weekender close by or a bigger adventure experiencing new countries and cultures by bike. It is the vulnerability, closeness to nature and physical challenge that make these adventures so unforgettable.

After a comfy night in a hotel and raiding the breakfast buffet, it is time to slowly but surely start turning around and head back to the start of their ride. But first, there is a stop in Monschau, a touristy place that can be enjoyed when getting there early enough. A few more challenging Ardennes hike-a-bike sections slow them down and only in the last few kilometres do the roads and trails finally seem to be going down more than up and they pick up some serious speed too. By this time all three riders feel way more comfortable with their packed bikes and know where to pack what so they can access what they need.
When the three reach Maastricht a few hours later than planned, no one seems to care about the delay. Time has gotten a new meaning and long hours in the saddle have become normal within just one weekend. All three riders agree that this will definitely not be their last adventure. The sense of achievement, freedom and connection is within reach and new plans are made right there. Within just three days on the road, these cyclists have become bikepackers and now know the thrill of traveling by bike.
All camping products used during this campaign are sponsored by Hikershouse: the rental store for hikers and bikers.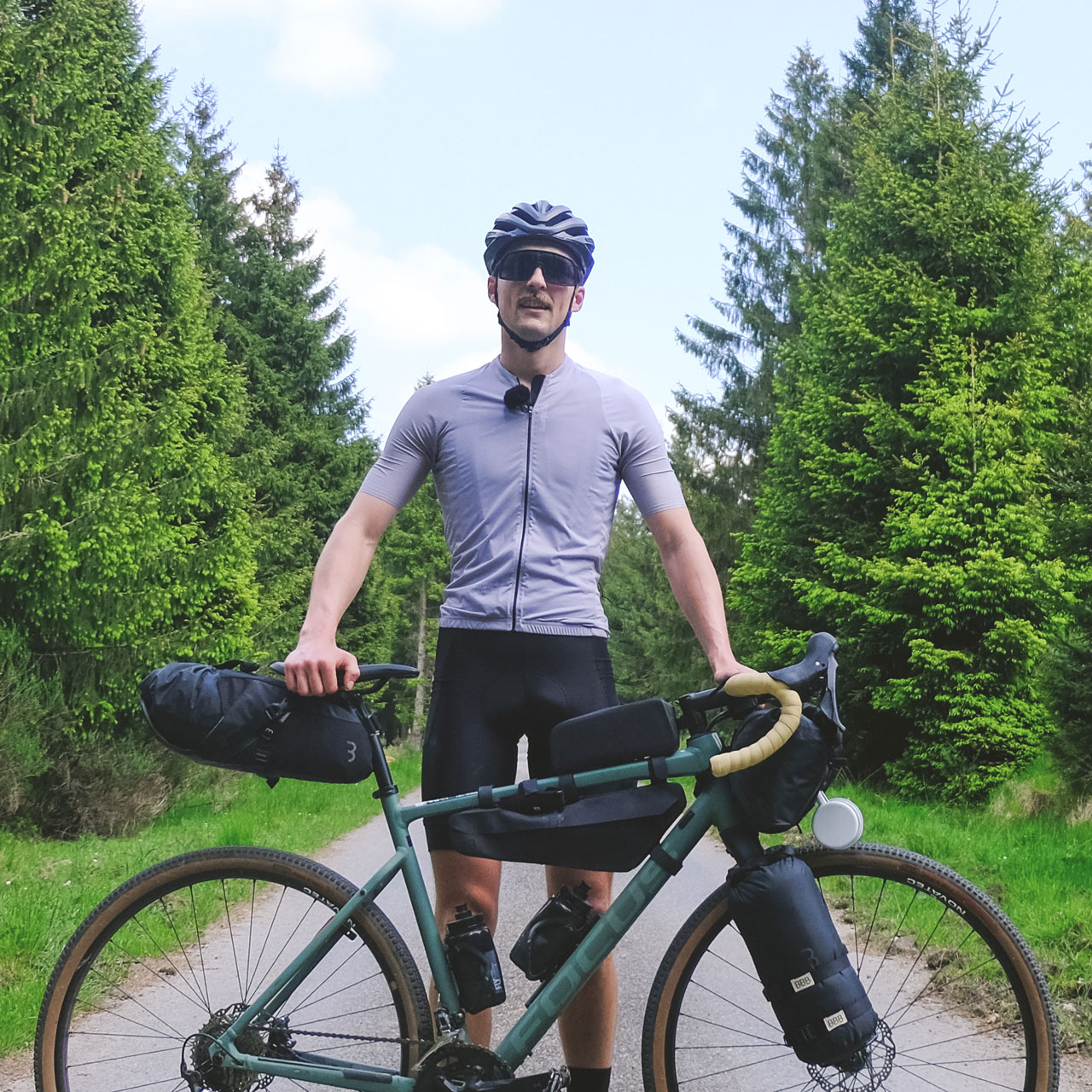 Berend's bikepacking gear: