All about our apparel
All about our apparel
Buyer's Guide | Apparel
Riding your bike is twice as much fun when you are wearing comfortable and well-fitting clothes. Practically designed and adjusted to your type of bike ride. With supreme quality and full protection from whatever the situation is. Be it scorching sun, unrelenting hail or endless winds: you want to be ready for it. And look awesome while doing so.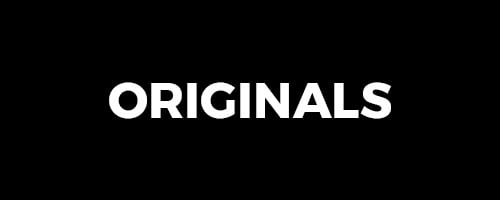 Our originals provide a full range of apparel and accessories. Suitable for all types of sportive cyclists. Riding in all types of weather, looking for value for money. Originals apparel is fashionable and functional. It offers straight lines and traditional seams for reliable quality and contributes to your cycling fun.
Our Performance line is for the serious cyclist who is always pushing the limits. No matter if they are riding a tour classic or are training on a sunday morning. The apparel in this collection is ready for high performance with its mesh inserts and elastic grippers. Clothing you can rely on, for a very reasonable price.
For die hard cyclists, we offer our top of the line Premium apparel. Clothing for pure racers. Whether competitive racer or not, the stretch materials, mesh inserts and clean finishes truly go the distance. We make use of the best fabrics, great designs and the latest technologies. This will match the highest demands possible and keeping your body in perfect shape.
Summer
The sun is shining, time to get up and enjoy the weather on your bicycle. You get dressed for a cycling trip and have a nutritious breakfast. You pump up your tires, mount your saddle bag and put on your helmet and glasses. The morning sun creeps up on the horizon when you let the wheels spin on the first part of your new ride. A new day has started and a new ride is coming up.
At BBB we help you to choose the best cycling wear for all situations. We have an assortment with apparel for every kind of cyclist. When the sun is out you have to jump on your bike and enjoy the weather to the fullest. We provide all the gear to tour around without worries. A ride you can enjoy with the best possible comfort.
Short sleeve jerseys
In designing our jerseys we are always looking for the best possible materials. We want to guarantee every cyclist with the best possible quality. So, all our jerseys are at least equipped with full zippers and elastic grippers at the bottom hems. And you can always take with you whatever you need because the jerseys are provided with three traditional cycling pockets.
Jackets
The weather can change quickly during your rides. We have developed our cycling jackets collection to keep you well protected for changing weather conditions. The jackets within this collection will help you to protect you against the elements. No matter if it is cold, windy or raining. We offer jackets which protect you from wind, ones that are packable into a small package or others that protect you against heavy rain. Because nobody likes riding in the rain, but if you do, you want to be protected.
Shorts
A cyclist wears a short to enjoy a comfortable ride. Our shorts are designed and developed to keep your ride as comfortable as possible. The most important element of a comfortable cycling short is the padding. As a result of our research we came up with an ideal padding line up. This suits every cyclist and offers maximum comfort under all circumstances. As different people require different levels and shapes we have developed paddings for our Original, Performance and Premium shorts. To ensure comfort on every kind of ride or distance.
Gloves
We offer our summer gloves in all kind of varieties. Provided with all kinds of different foams at the palms that give you comfort during rides with different lengths. And with a variety of different closure systems, from stretch material to a velcro strap. Our line of gloves provides you with the best grip on every kind of ride, no matter how long you have to sit in the saddle.
Socks
Our socks are made with the special selected Coolplus and Coolmax material. This will keep your feet dry and cool during any kind of ride. So your feet can keep doing their job, pedaling.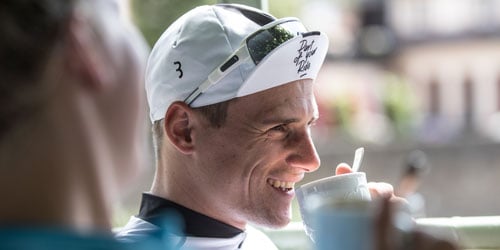 Hats
We will always advise to wear a helmet during your rides. Because everybody want to keep their head safe on their ride, isn't it? But, did you ever think about what to wear underneath your helmet? We've got you covered. With a cap or bandana to protect your head against sweat. Made with use of artificial fibers that will contribute to a comfortable ride whatever model you prefer.
Winter
A soft breeze of fresh air escapes from the window and you smell the morning autumn air. It might be drizzling outside, or cold and windy. It might rain heavily, but nothing can stop you from having a great ride. You get dressed for your cycling trip and have a nutritious breakfast. You pump up your tires, mount your saddle bag and put on your helmet and glasses. Time to start you ride.
While riding you enjoy the coloring leaves and smell the fresh air. You are the cyclist that enjoys cycling no matter what the weather might be. At BBB we help you to choose the best cycling wear for these occasions. With apparel made of great materials and designed with an eye for the smallest details.
Long sleeve jerseys
Our long sleeve jerseys are produced with materials with a soft brushed inside. They feel very comfortable and the material traps air which keep you warm. All the jerseys have a full front zippers and elastic grippers at the bottom hem. Besides this they always provide three traditional cycling pockets. So, you can take whatever you need on your winter cycling adventures.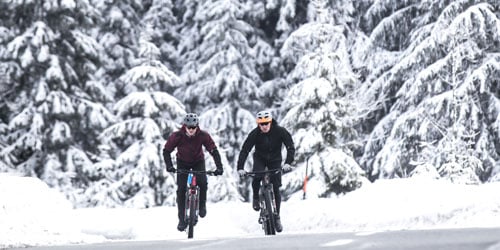 Jackets
Our winter jackets will help to keep you warm and free of wind during all your autumn and winter rides. They are designed and produced with our own developed materials called Trilite and Trioxx. Both materials are specially made to keep you warm and comfortable during your winter rides.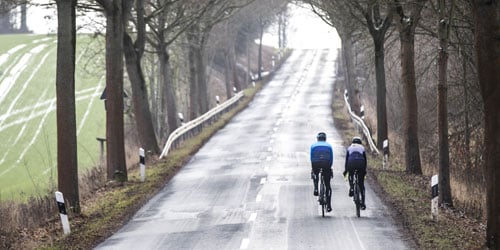 Tights
You want to enjoy your rides no matter what the circumstances are. So, for your rides during cooler days we have designed and developed winter tights. In our Originals segment we offer Thermal tights to keep you warm. Our Performance tights are provided with Thermoplus, a material that has a DWR treatment. This treatment makes the material warm and repels water. Our Premium tights have wind blocking panels in combination with Thermoplus DWR treatment. This protects you in the the most extreme weather conditions.
Hats
When cycling in winter you want to protect your full body against the cold. You can't forget your head when thinking about protection. Our winter hats will help you through winter and keep your head warm during your rides on cold and chilly days. These winter hats are designed to wear under our helmets and to keep your head at the right temperature.
Gloves
In our gloves assortment we have gloves for every purpose. It contains gloves for early spring and autumn rides, to gloves for the most extreme cold days. We offer gloves for every type of weather. So, no wind or rain can keep you of the bike.
Socks
For the winter we offer socks with Thermolite. This material is a fiber that traps air and keeps your feet warm. We also offer socks with FAR infrared technology that keeps your feet and toes warm. This material is exceptionally comfortable. It improves the metabolism and microcirculation within the body.
Shoe covers
Our shoe covers are designed and developed for all kind different protection. From base protection of the feet against the cold to extreme performance in wet weather conditions. Or a combinations of both aspects for those cold days during winter cycling commutes.