All about our handlebar tapes
Buyer's Guide | Handlebar tape

Handlebar tape is used on a road bike to create a firm grip, extra comfort, and a good look on your bicycle. Handlebar tape has a big influence on all these aspects. Nowadays, a good quality handlebar tape is more than just a piece of foam. It can consist of multiple types of material. This makes your ride more comfortable and makes sure you can apply it to your handlebars easier.
In this buyer's guide we will explain what to look for when you buy your next handlebar tape and give you guidance in the overwhelming world of handlebar tapes.
Comfort
The level of comfort for a handlebar tape seems like a simple thing, but there is actually a lot involved to create this comfort.
Comfort is not the same for everybody and it can mean something else on different riding surfaces. The comfort of a handlebar tape consists of grip, damping, and thickness of the tape. For none of these aspects means that 'more is always better'. Personal preferences and type of riding play a big role in what works best for you. The ultimate goal is obviously to create comfort and control over your bike.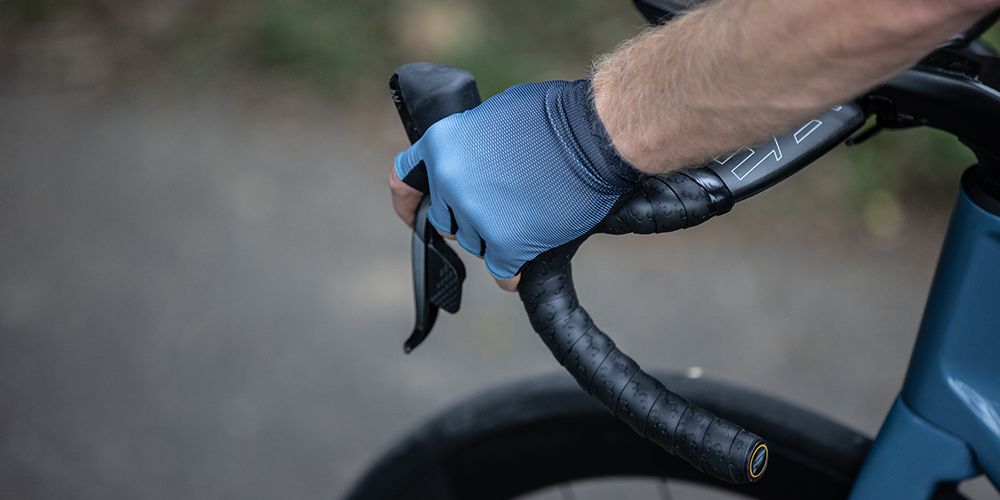 Materials
The used materials are the fundamental factor in creating a comfortable and practical handlebar tape. We use PU, EVA, and Microfiber material through our range of handlebar tapes. All materials have their own specific benefits and it is up to you to make a decision about what is important to you.

PU or Polyurethane is mostly used in handlebar tapes for its flexibility, it can be wrapped around the handlebar tightly and shapes easily to avoid any wrinkles. Besides, it is easy to clean and will repel mud and water.

EVA or ethylene vinyl acetate is one of the classics and provides you with great comfort and damping abilities. Besides, it gives you a firm grip and a comfortable contact surface for your hands.

Microfiber is well-known for its toughness. It will last significantly longer than other materials and is super easy to clean while still maintaining a great appearance.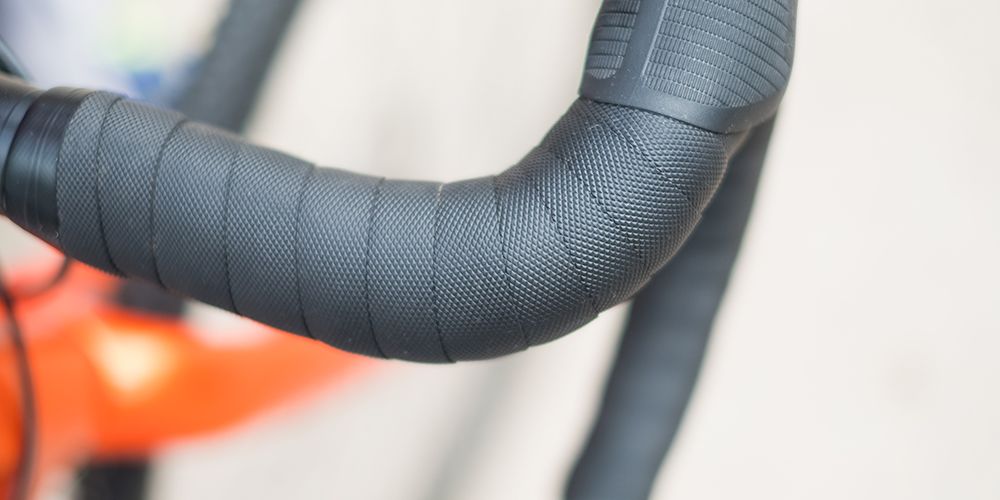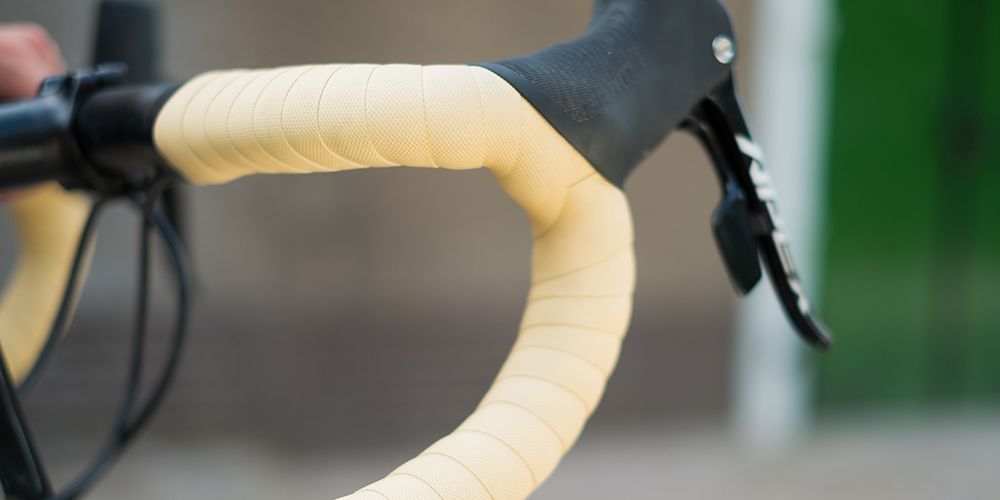 Surface
Let's start with the surface of your handlebar tape. This is one of the few contact points between you and your bike. It is therefore a very important aspect to create control a comfortable grip. It is important to realize that every person has his own preferences in regards to the amount of grip of handlebar tape. We cannot give you any advice on this, as you have to go with your gut feeling and experience. All our handlebar tapes have a grip level between 1 and 9 to give you an indication of the amount of grip you can expect. Both high and low levels of grip have their own pros and cons.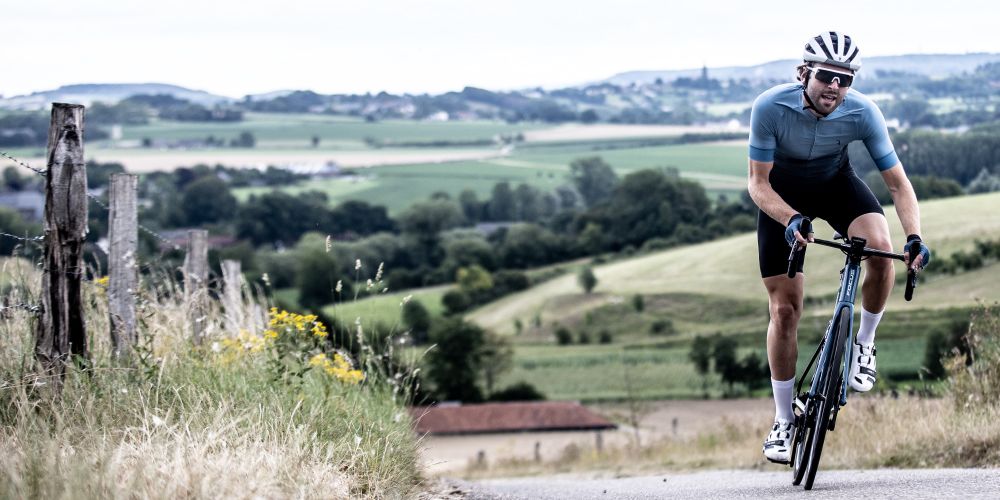 Low grip level
A low level of grip means that your handlebar tape gives you a lot of freedom to move and adjust your hands. Riders that change the positions of their hands often, tempt to prefer a lower grip level to be able to slide their hands to a more comfortable position. Lower grip levels make it easier to move your hands. It creates grip not through the surface of the handlebar tape, but through the pressure of the hands. If you have no experience with different types of handlebar tape, we advise you to ask your cycling friends about it and visit your local bike shop to feel different types of handlebar tape yourself. Gaining experience and knowing 'what's out there' will definitely help you find the right handlebar tape for you.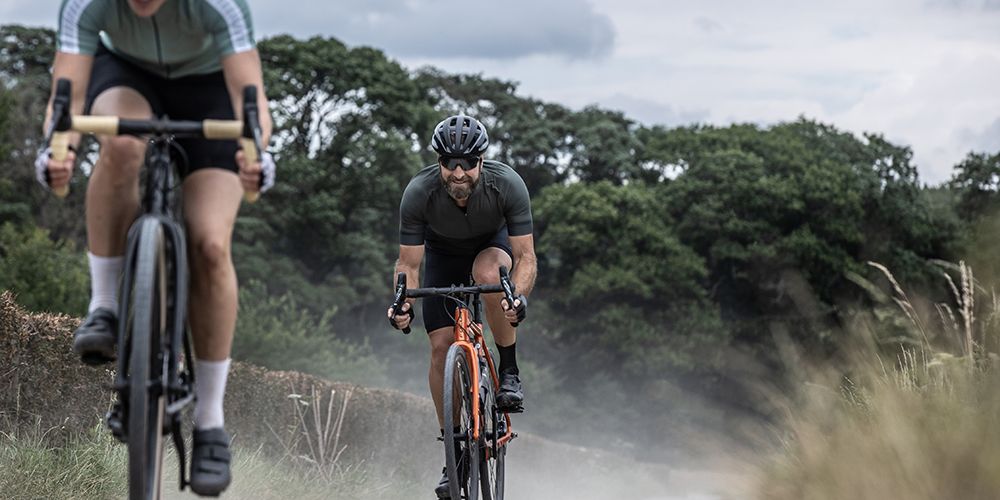 High grip level
A high level of grip means that your handlebar tape creates a grippy surface to keep your hands in a steady position. Grippy handlebar tape makes it easier to keep your hands in one spot without having to clamp on to your handlebar too much. A more static and secure position can be easier maintained. Ideal for rough terrain or riders that like to have a very firm grip on their handlebars. For this type of handlebar tape, the same thing applies: if you have no experience with different types of handlebar tape, we advise you to ask your cycling friends about it and visit your local bike shop to feel different types of handlebar tape yourself. Gaining experience and knowing 'what's out there' will definitely help you find the right handlebar tape for you.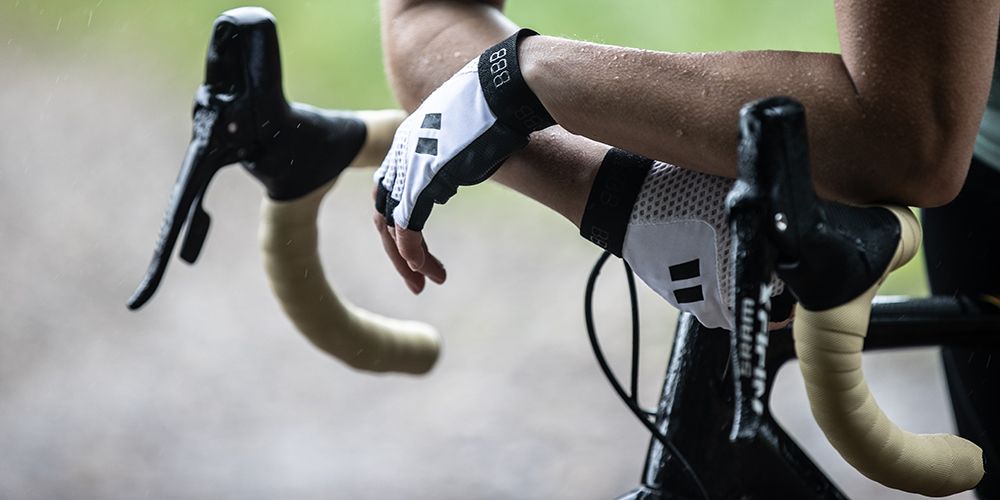 Damping
Damping of your handlebar tape reduces vibrations and creates a barrier between your hands and the harsh and rough riding surface. A handlebar with no handlebar tape would feel uncomfortable from the start, as you feel every little bump in the road, and the vibration will tire out your hands really quickly. A good handlebar tape absorbs the unwanted and uncomfortable vibration and works as a suspension between your bike and you. Although, too much damping can reduce control and 'feeling' with your bike. It can water down the feedback you get from your bike and the surface you are riding on. It is therefore important to determine the right amount of damping that your personally prefer. In the specifications of our handlebar tapes, we have indicated the amount of damping. We will give you a few examples to take into consideration:
Flat and smooth
Rough terrain
Take length into consideration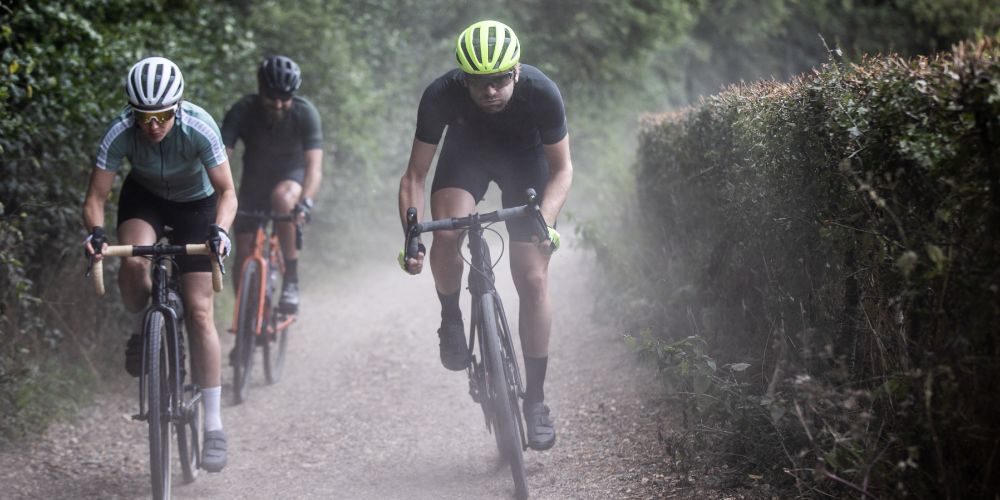 Thickness
The thickness of your handlebar tape has also a great effect on its comfort. Also, personal preference plays a major role in this. The thickness of your handlebar tape essentially changes the thickness of your handlebar. Choosing a thick handlebar tape means that there is more surface area to evenly spread out the pressure on your hands. This will keep the blood flow in your hands better and therefore makes your ride more comfortable and your hands less tired.
On the other hand, choosing a handlebar tape that makes your handlebar too thick can also be uncomfortable. If you have smaller hands or you cannot comfortably wrap your hands around your handlebar anymore, it is better to choose a thinner handlebar tape. Our 3,5 mm thick GravelRibbon and RaceRibbon Gel are our thickest handlebar tape, developed for comfort and good absorption of vibrations. Our other handlebar tapes are all 2,5 mm thick and can be seen as a good balanced comfortable thickness.
Appearance
Obviously, comfort should be one of the most important aspects of your purchase. But even if you know which handlebar tape you want, there is still a lot to choose. Almost all our handlebar tapes are all available in black and white. But for cyclists who like to play with colors, there is also a lot to choose from!
Our RaceRibbon for example is available in a lot of colors! Besides, different patterns create a nice and classy look! We have a range of suitable colors and patterns for every handlebar so that there is always a handlebar tape that suits your bike.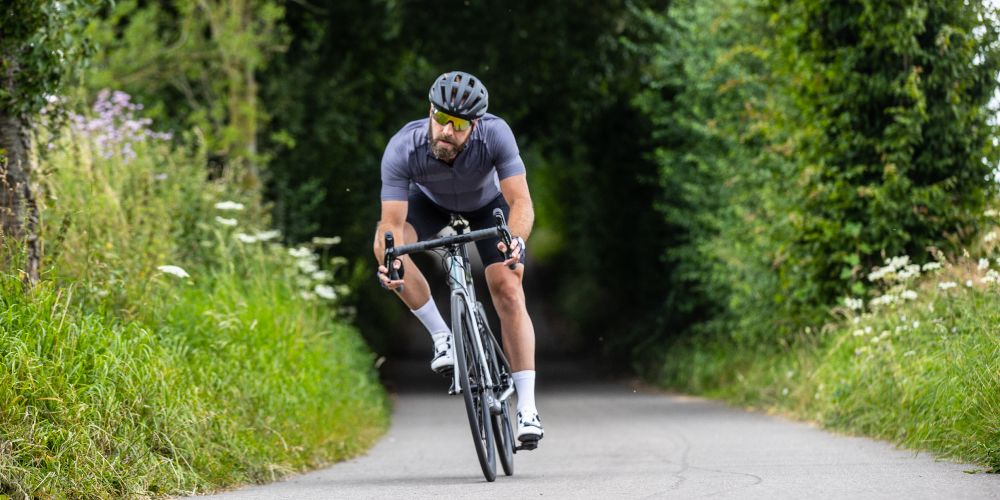 Little details make the product
Handlebar tape is quite a simple product, but that does not mean we can take some shortcuts in the designing process. Actually, it is quite the opposite! There are so many handlebar tapes on the market nowadays, that we have to work hard to stand out in the crowd. The little details make the product really special. That's why we have focussed on making our handlebar tapes perfect from head to tail.

Some of our luxury handlebar tapes, the ones that require extra comfort, have a gel strip instead of a glue strip on the back. This gel strip allows you to re-apply the handlebar tape multiple times and creates some extra comfort through the soft damping abilities of the gel. This way you will be able to comfortably apply your handlebar tape, and ride your bike just as comfortable.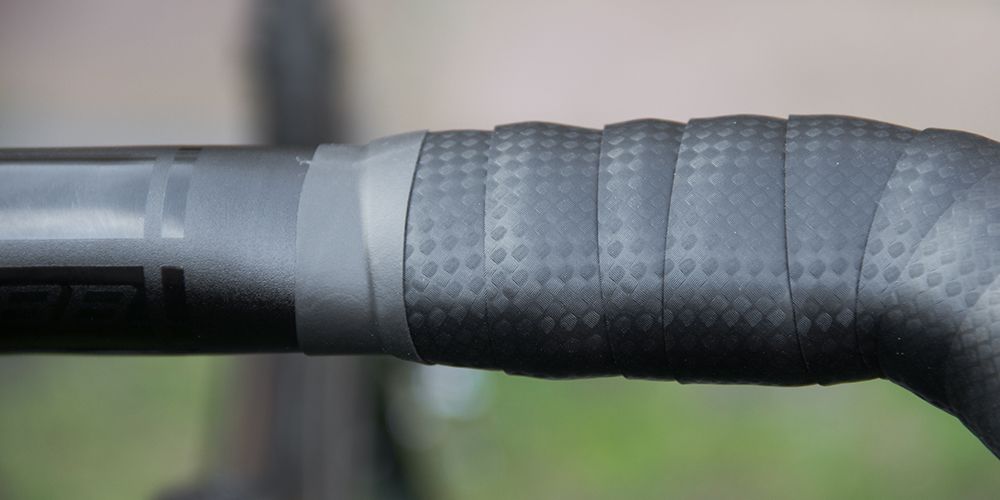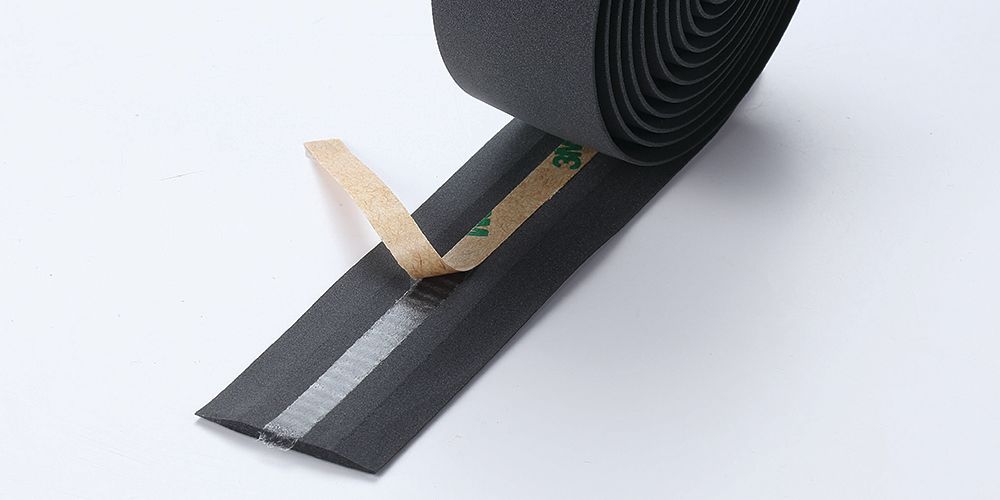 Ready to go!
When applying your handlebar tape yourself, you only need a pair of scissors. All the rest is included with the handlebar tape to get you back on the bike as quickly as possible. Both finishing tape and handlebar plugs are included and the handlebar tape itself is long enough to easily cover your whole handlebar.
The special gel or glue strips on the back of our handlebar tapes make it easy to apply to your handlebar. Our more expensive handlebar tapes even have a gel strip which means that you can reapply your tape again and again. It provides good fixation on your handlebar and together with the finishing tape and handlebar plugs your handlebar tape is perfectly secured on your handlebar. If you prefer different handlebar plugs or you would like to have a spare pair, we also sell a range of different handlebar plugs in different colors and designs to fit your bike. Go for a pair of ScrewOn handlebar plugs for a luxury appearance, as super-secure hold and limitless (re)usage!
Conclusion
With your new handlebar tape applied to your bike, you are ready to impress your cycling friends on the next ride. With the information from this buyer's guide, you will be able to buy the right handlebar tape for yourself. You will come home with a good-looking comfortable handlebar tape that meets all your requirements. Take a look at the different product pages on our website and find out more about the individual handlebar tapes we offer.