All about our socks

You may think; 'a sock is just a sock.' But those days are long gone! Nowadays cycling socks contain a lot of technology to create as much comfort as possible. Wearing the right socks on your ride can make all the difference. It can make or break your ride. Thickness, types of material, length, fit, seams etc. all these aspects will be discussed in this buyer's guide to make sure you know what to look for when you buy your next pair of socks.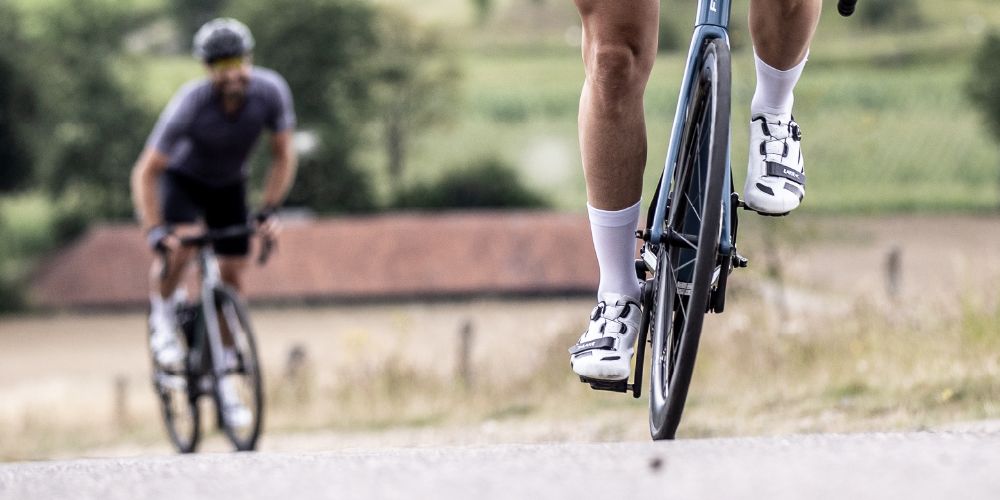 Socks and their role in cycling
Socks have always been an important part of peoples cycling apparel. Back in the days it was unheard of to ride your road bike with anything else than white sock that had to be exactly the right length. Nowadays we see more colorful creations pedaling around. There is always a lot to do around sock in cycling, and leaving the 'rules' about socks that differ from cycling group to cycling group on the side, our socks are designed to last. High-end materials make sure the color of your socks will stay vivid for long and comfort will not decline. Our socks collection contains socks of different heights and materials to serve everybody. This way, whatever color, model or material you choose, your comfort is guaranteed.
Beside the social part of socks in the cycling world, your sock have obviosly also a very practical aspect while riding your bike. Socks help you to be comfortable in your shoes. May it be specific cycling shoes or other sport shoes you wear while riding your bike. Socks evaporate moisture and protect your feet against possible harsh ridges in your shoes. This way they can prevent you from getting blisters or other irritations. Another function of socks is of course to keep your feet warm. Wearing a pair of good insulating socks in cold weather conditions can make all the difference!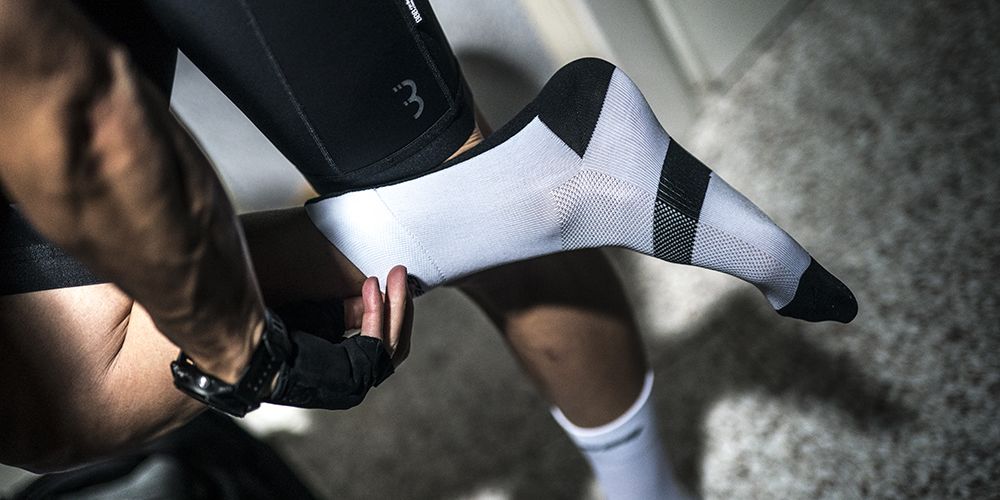 Materials
A long, long time ago socks were always made of wool, no questions asked. Over the years cycling has made some great progression in technology. Not only the technology of the bikes itself, but also the apparel and thus socks. Our range of socks contains four different types of materials that all have their own specific goals. Take for example the great technology of our FAR InfraRed materials, which reflects your own body heat due to the ceramic particles in the fabric. This way your feet will stay longer warm and without the annoyingly thick insulating fabric. On the other side of the spectrum we have our Coolplus fabric, which is specifically designed to keep your feet nice and cool in hot weather conditions. Our coolplus material will wick moisture of your skin for quick evaporation. This way it keeps your feet dry and helps ventilate your feet. Throughout our whole apparel range we use almost 20 different types of materials and fabrics. To learn more about all these different materials, take a look at our clothing Materials page.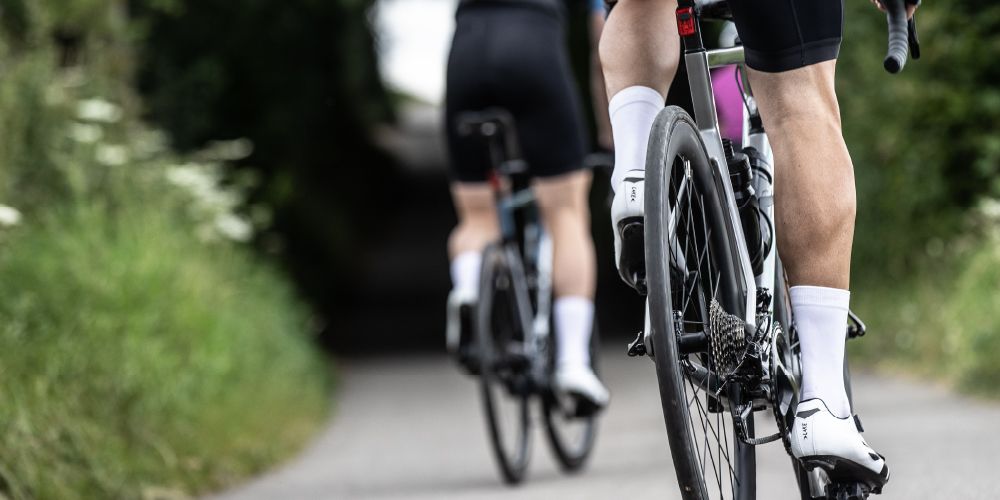 No seams, no problems
Comfort, that's where its all about in the world of cycling socks. Socks create comfort by taking away discomfort. Let that sink in for a bit. Wearing a sock does not create a constant feeling of comfort, but when a sock is not comfortable it can be extremely annoying. An important aspect of this comfort is irritation ridges or other things that can cause blisters. Normal socks have often seams at the toes and on the top cuff on the ankles. These seams may be fine on normal socks for normal daily use, but when you are riding your bike it can become quite annoying. Cycling consist of a constant circular movement with your feet and if something in your shoe is rubbing, it will definitely cause problems after a few hours on the bike. Our cycling socks are therefore designed with a special seamless construction. There are no seams to be found on the entire surface on the sock. Our socks are perfectly smooth and will therefore never cause any rubbing on your feet. This is a massive improvement in comfort. No blisters or other irritations ever again!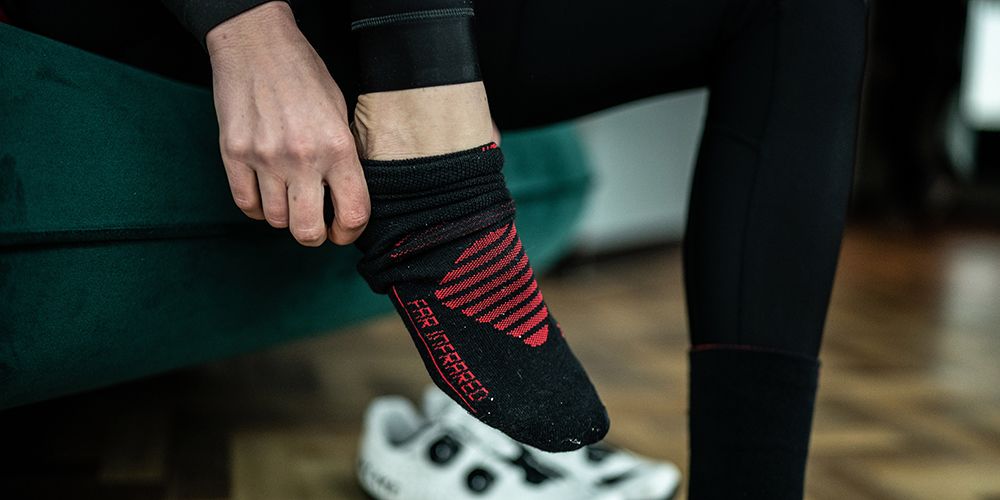 The perfect temperature
The main function of a pair of socks is to create comfort. On the colder days this comfort means that your socks play a big role in keeping your feet nice and warm. As your feet are all the way at the end of your limbs, and although your legs move a lot, your feet are in a very static position on the bike. Bloodflow is low and therefore your feet can cool down very quick! Once your feet are cold, there is no way you can warm them up again while riding your bike. Riding on cold days requires a good pair of socks that insulate your feet. Our ThermoFeet and FarFeet are specifically designed for those colder days. On the other hand, on the hot summer days, you want socks that are not too hot. Hot feet can be quite uncomfortable. Good moisture absorption, ventilation and evaporation are three essential aspects of a good summer sock. Our HighFeet, TechnoFeet and CombiFeet all have these specifications. The open structure knitting creates breathability. Our CoolMax material pulls the moisture off your skin towards the outside of the sock where it can evaporate easier. The evaporation creates a cool sensation on your feet. Those hot days are going to be fun!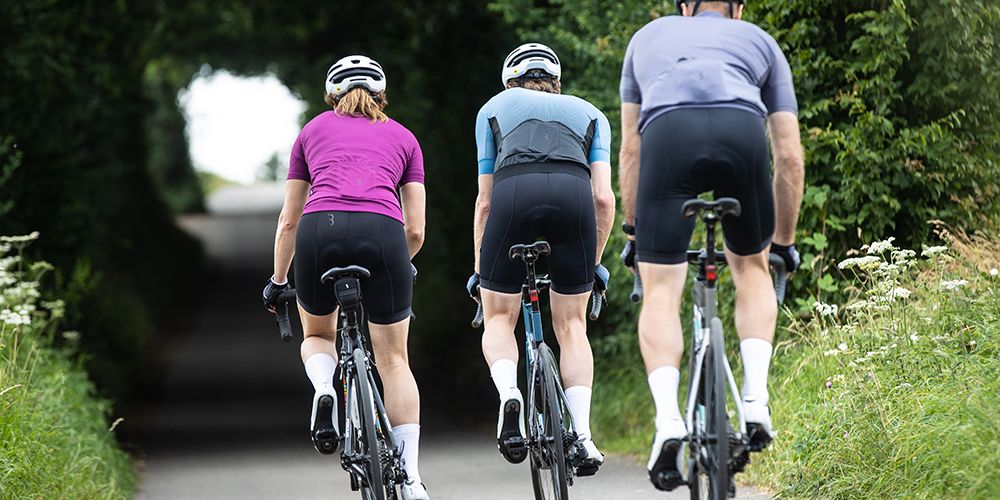 Conclusion
Your socks highly determine the comfort of your ride. They may seem like just a simple part of your equipment, but a good pair of cycling socks will definitely improve your riding comfort. Cycling socks are a not to underestimated essential part of your equipment. The good fitting, ventilation, insulation and not to forget aesthetics make our socks the perfect companion for your ride. Whether it is on the road, gravel track of offroad. Just go for it one day, and discover what a difference it makes when you are riding your bike with a pair of purpose made socks. We got them waiting for you!