All about our sportive saddles
Buyer's Guide | Sportive saddles

Our sportive collection of saddles ensure the comfort for long rides but also give you the freedom to change position as you might like. A much further downwards position on the bikes requires a different shape of the saddle. Pushing yourself to the limits requires a saddle that does that too.

Cycling position
Your position on the bike is very important. It makes a ride fun or not. A wrong position can cause neck and back pain which declines the power you can push on the pedals. Every saddle has it's own shape which goes best by a certain position. For the more serious MTB and Road cyclists, our saddle series offer Sportive and Competitive positions. Therefore it's important to know your ideal position and find the right saddle.

Sportive
Sportive saddles are perfect for people riding in a sportive position. This position is mostly used for touring and riding long distances on a road bike or MTB.
Competitive
The competitive saddles are especially designed for riders who want to be fast. These saddles are perfect for a competitive position which is needed in a race or fast training ride.

Details
When selecting a new saddle you need to pay close attention to the width of your saddle, the relief channel or anatomic cut-out and curved tail. All these details will determine the amount of support and comfort of your ride. Depending on your needs and your position you choose the saddle that fits your body perfectly. This prevents uncomfortable and unnecessary strain.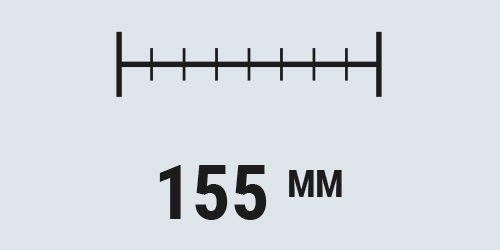 Width
When selecting the best saddle for your rides, pay extra close attention to the width. To sit comfortably on your saddle, your sit bones must be well supported. Located at the bottom of your pelvis, the distance between these two bones is different for everyone. The width of your saddle is a decisive aspect for the comfort of your ride. So make sure you choose the right width.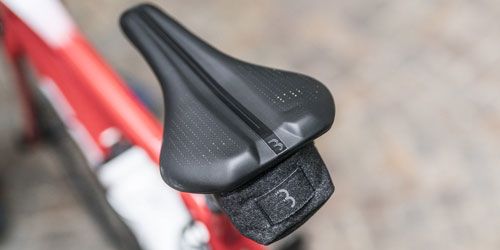 Relief channel
All our saddles have an integrated relief channel. Some even have a relief hole to take the pressure off completely. It keeps your sensitive parts free from pressure and your blood circulation intact. Without this channel in your saddle it will cause pain and trouble in this area of the body. A cut out devides the pressure evenly over the contact area. You will definitely feel the comfortable difference.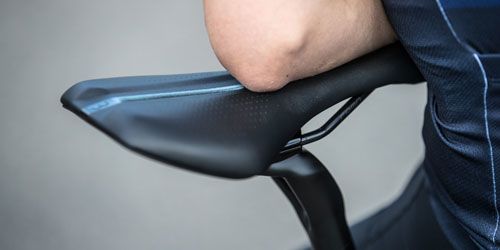 Curved tail
Most of the saddles are flat from the front to the back. This often results in overloading your back, because you start to move back and forth while riding. Most of our saddles have curved tails to tilt you pelvis slightly up. It releaves your spine of uncomfortable and unnecessary strain. A little bit of extra support to comfort your ride.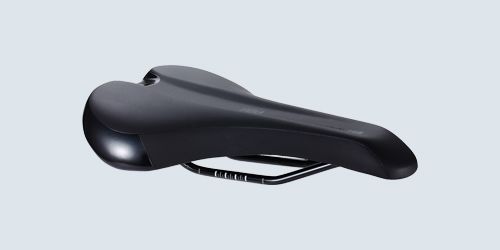 Spectrum
When you are performing in all disciplines of cycling, you definitely need a Spectrum saddle. The perfect partner in crime for touring, road and MTB on a sportive or competitive level. Available in three width sizes it provides a fit for every adventurous and versatile cyclist.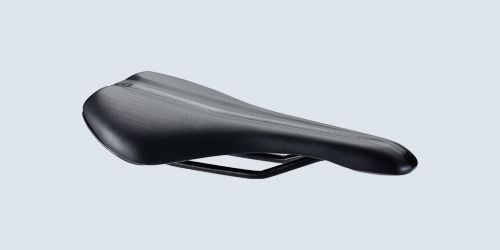 Convoy
The Convoy proves that pain and discomfort aren't part of a long ride. It meets all good things you expect from a saddle for competitive race posture and is equipped with the best materials. All of this for a competitive price. With this saddle your cycling adventure can start.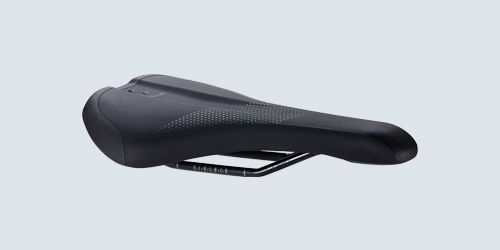 Echo
The Echo is specially designed for off-road cycling. With this saddle mounted on your bike, you are going for the highest performance. Designed for cyclists that sit in a competitive cycling posture. So, no worries about uncomfortable moments in the forest.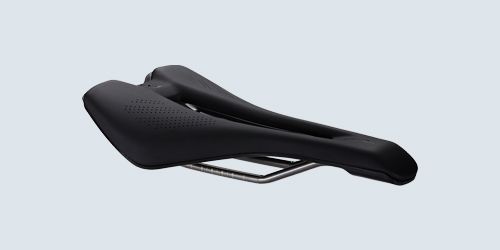 Echelon
Nobody ever told us that saddle sore is part of the deal. So, when it comes to sportive or even competitive road cycling you want to sit in the saddle for a long time without any pain. Comfortable and enjoying cycling to the fullest. The Echelon takes care os this like no other.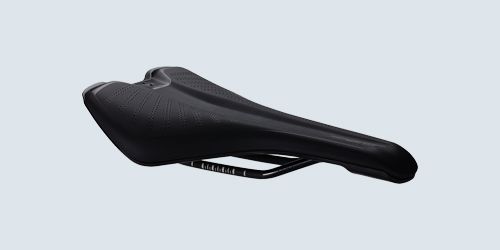 Phalanx
The saddle is the most important contact point between you and your bike. Therefore quality must be good, but comfort needs to be excellent. The Phalanx is our showpiece when it comes to road saddles. Available in three different saddle widths.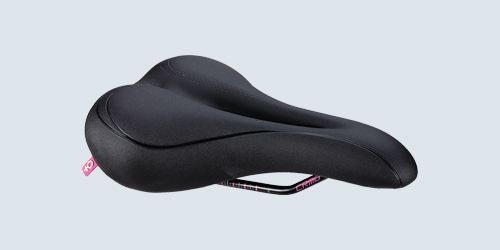 Specials
Besides all these different sportive saddle we have some specials in our assortment. Saddles especially designed for women and saddles for small bikes.