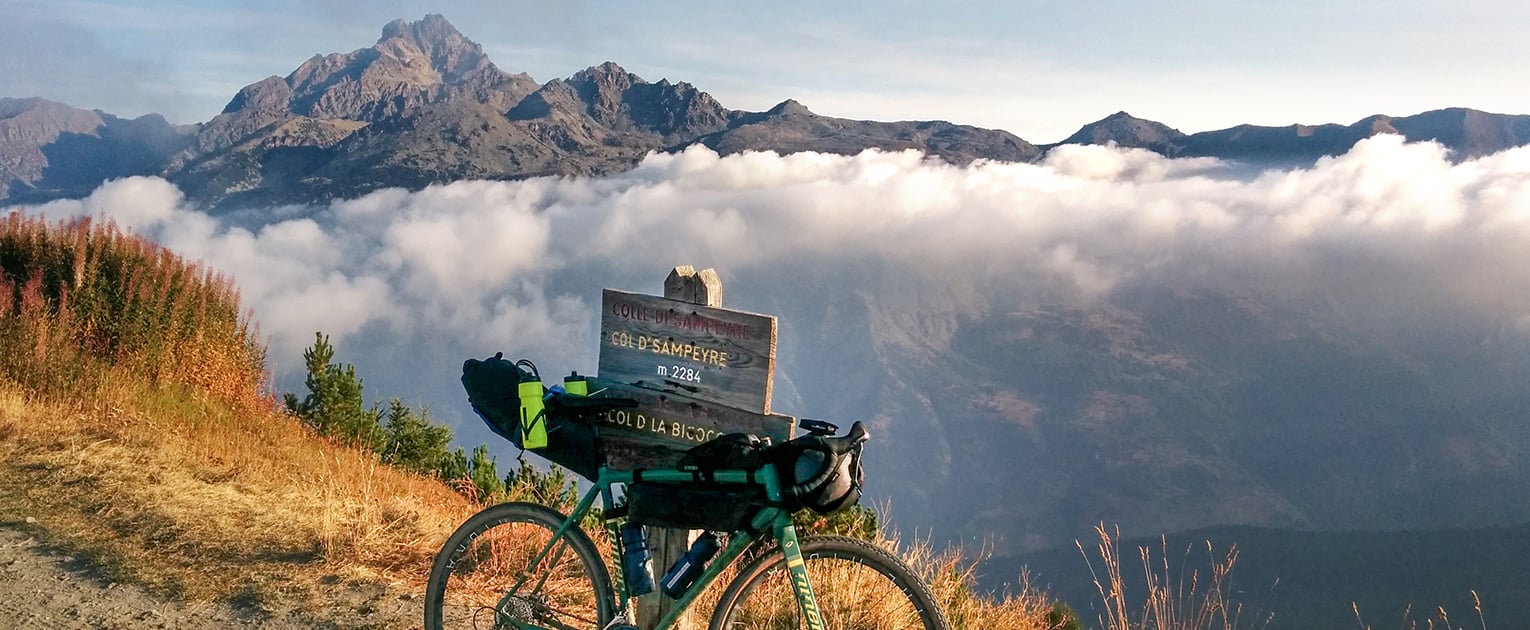 10 things that I learnt during the Torino-Nice Rally
20 Aug. 2018
How to ride the Torino-Nice Rally
10 things that I learnt during the Torino-Nice Rally
In September 2017, BBB product designer Tjerk Bakker participated in the second edition of the Torino-Nice Rally. A cycling event – the organisation makes it very clear that it's not a race – that runs from Turin to Nice, across some of the most beautiful mountain passes in the southern Alps. The entire route is about 700 kilometres long with the incredible total of 20,000 vertical metres, and almost half it is over unpaved roads. We present ten lessons that Tjerk learnt along the way.
1. Be carefull with your stuff
The gear that you have with ou should last you the whole journey. So be careful with it, watch out where you put it and how you pack it in your bags. After all, exhausted brains work just a little bit less efficiently. I accidentally broke my glasses on the first day and I had to ride without eyewear for another five days. The screen of my compact camera also got scratched because it was rubbing against something in the little bag on my top tube.
2. Clothing: layering is everything
It's what they've been saying in the outdoor world for years, but the same basically applies to cycling gear. And because you have to work with what you've got on rides like these, it's even more important. Try to divide your clothing into as many layers as possible that you can combine with each other in various ways. Apart from my usual cycling jerseys and shorts, I had a waterproof TriGuard jacket, leg warmers, arm warmers and a hat for under my helmet with me. In short, a lot of compact items of clothing that could be combined in various ways or worn over each other and so adapted to the circumstances.
3. Italy is the best place for an adventure like this!
Since the Torino-Nice Rally is not a race but a touring event, there should also be some time to enjoy all of the delicious things that the local cuisine has to offer. Fortunately, the route more or less follows the French-Italian border to the south, and there is more than enough time and opportunity to enjoy delicious pasta dishes in small villages or slurp up a cup of the most perfect cappuccino ever. And you don't have to worry about the extra pounds, because you'll lose them on the next climb.
4. Waterproof bags are life-savers
The best thing about this event is that you see people participating on literally every type of bike and with every kind of bag. One thing has become clear to me, though: if you're on the road for more than a few days, you have no influence over the kind of weather that will be thrown your way and you have to be prepared for rain. I had brought prototypes of the waterproof bikepacking bags Front Fellow, Middle Mate and SideKick, which are now part of our collection, and they were life-savers. Nothing is more annoying than discovering that your sleeping bag or extra clothing has got soaking wet on the way.
5. No one has ever reached the finish line and said: my gears were too low
I had a set of compact chainrings on my crank with 50 and 34 teeth, respectively. Combined with a wide range cassette (11–36 teeth), my lowest gear was 34–36. Remember that you have to lug not only yourself and your bike up the mountain, but your luggage too. In other words, I didn't regret my choice of low gear for one second.
6. Tubeless is great, but...
Before TNR, I had never tried riding tubeless. On the advice of a former participant, I had a mechanic lace a tubeless wheelset and I bought suitable tyres for it. Be careful though. By clumsily handling a hand pump I removed the tubeless valve core and lost the tubeless seal between the rim and tyre. I solved this problem by riding with tubes, but that resulted in a lot of flat tyres. So be sure to check that the valve cores are good and tight before you start your ride.
7. Your frame bag can be too full
The bag that is attached to your frame is fighting for space with your pedalling legs. Therefore, try to pack it as flat as possible. Soft things that have a tendency to expand (such as a jacket) can much better be stored in your saddle bag or handlebar bag. The frame bag is the best place for things that you want to be able to get to quickly, anyway: food, a gel, your sunglasses, a spare tyre or a cap for under your helmet.

8. Finding a place to sleep is usually no problem
Beforehand, I needlessly worried quite a bit about where I would sleep along the way. Talk to people that you meet, other participants, and see what the weather is like and how you're feeling. I had a lightweight tent, mat and sleeping bag with me. In practice, I used the tent only once. The first and fourth night I slept in a mountain hut that I passed along the way, the second night at a campsite of a fellow participant and the third night in a hotel during a bout of bad weather. It was only on the fifth night that I was stranded somewhere on a mountain with flat tyres and put up my tent. It will always work out in the end.
9. Choose the widest tyres that will fit your bike
Significant parts of the route are tarmac roads, but the ratio of paved to unpaved seems to be almost 50:50. I would let the unpaved parts of the route dictate my choice of tyres, though. A set of good gravel tyres is hardly a disadvantage on tarmac roads and you'll definitely benefit from them on the unpaved sections. Choose the widest tyres that will fit your bike. And don't forget to bring along the appropriate spare tubes.
10. TNR is a ride for everyone
The Torino-Nice Rally may sound like a gruelling endeavour for even the fittest among us, but in reality it's a beautiful ride that is quite doable. Climbing the big cols along the route is no easy feat of course, but with the right gearing, it's a safe and exciting way to take on such an adventure.