How to change your cassette
30 Nov. -0001
Change your cassette in 6 steps
When you start doing your own bike maintenance and repairs, replacing a worn cassette is one of the first jobs that's a bit more difficult and that you would normally have done by a bike mechanic. But, you can do it yourself! Let us explain to you how.
These are the essentials you need:
1. Remove the rear wheel
Shift into the smallest sprocket. Release the brakes and quick release to remove the rear wheel from your bike. Many bikes are still equipped with a quick release, but more and more often you'll also see thru axles.
2. Remove the Quick release
Remove the quick release from the rear wheel. Pay attention to the loose springs on the axles: check where they are located and make sure they don't fly off. Later you'll have to put them back in the right way.
3. Placing the T-RexGrip
Place the T-RexGrip on the cassette. The tool is designed to work on all cassettes, from old 5 speed models to the very latest 12 speeds. Thanks to the shape of the jaws, the T-RexGrip always grips the cassette in the same way. Before you apply force, check that the tool is properly seated. Apply force in the direction indicated by the arrows that are etched next to the handle.
4. Loosen the lockring
The cassette is attached with a so-called lockring, which you loosen with a lockring tool. If you place the wheel in front of you on the ground, you can apply enough force to loosen the lockring with the lockring tool and the T-RexGrip in a "10 to 2" position.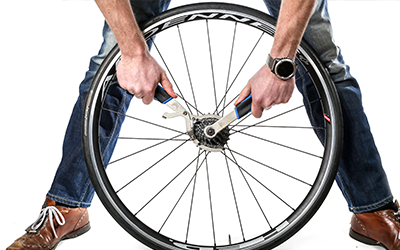 5. Remove the cassette
The cassette can now be removed. Sometimes you'll have to apply a bit of force, because individual sprockets become somewhat stuck on the cassette body.
6. Install the new cassette
Coat the cassette body and the thread of the lockring with assembly paste. Now you can install the new cassette. Please pay attention: the sprockets of the cassette only fit onto the cassette body in one way. And all of the rings in between, the so-called spacers, ensure that all sprockets are spaced evenly. To tighten the cassette, all you need is a lockring tool.