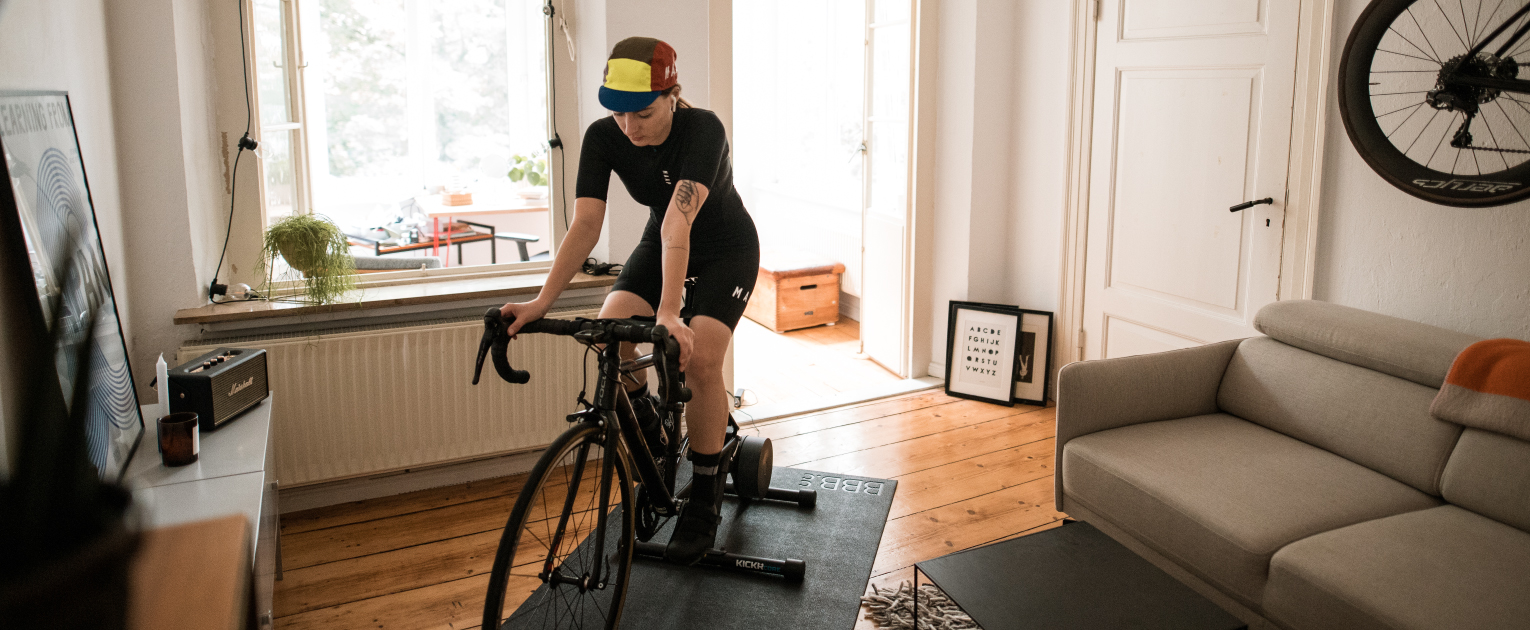 Tips and Tricks for Indoor training
30 Nov. -0001
A great way to stay fit during the cold and dark season
TEXT / JANNIS BRANDT | PHOTOS / JANNIS BRANDT
Exercising on the turbo trainer is a great way to stay fit during the cold and dark season. It is a super-efficient way to keep the shape from the summer. With the right software, you don't even have to give up the group rides. With these tips you will have lots of fun with indoor training – not only in winter.
Smart trainer / software & accessories
I recommend everyone to train with a smart trainer - if the possibilities are there. Not only because it is more fun, but it's also much quieter when exercising. With the modern smart trainers, you have the possibility to control your training with software like ZWIFT and you can run different programs, train with your friends or race online.
With ZWIFT you can virtually cycle together with others on different routes. Everything you need for this is a smart indoor trainer, Wi-Fi, a tablet/computer, and ZWIFT. If you don't own a smart indoor trainer you can transfer your power data with your power meter.
To avoid overheating while training indoor I recommend to use a fan or cycle near an open window. To protect your bike and the floor I would use a sweat catcher. And your neighbors will be very happy If you use a training mat to avoid noises. The training will be significantly quieter and you will protect the floor. To ensure a safe and stable training you should use a holder for the front wheel. You will avoid jerky moves and you can focus on your training.
In addition, I recommend wearing breathable clothes because you will sweat a lot more than outdoor.

Advantages of indoor training during winter season:
It is weather-independent (you can do it even if it is really bad weather outside)
It is very efficient
You are always safe because there is no traffic
You can do it at any time
Workout / training plan
To make sure that indoor training won't become boring you should integrate some efforts during your workouts. The time will go fast and you will get stronger with those 'high-intensity-workouts', also if you don't have much time. I would recommend not more than 60 minutes for your workout.
20 min warmup
3 x 12 min high intensity
5 – 10 min cooldown
You can also do your basic (everything more than 2 hours) training indoor. To make sure that this won't be boring you can make an online appointment with your friends, watching cycling races, a movie, Netflix or other things.

Nutrition during indoor training
It is very important that you drink enough during your indoor session. You will sweat a lot more than cycling outdoor, so you need to drink more. It makes sense to put your drinks and food right beside your smart trainer to make sure that you don't have to stop your session for drinking/eating.
My secret tip
To train your fat metabolism and to have a nice start into the day you can make a nice and short session early in the morning and enjoy your first coffee on the bike.