Jack Ultra Cyclist | The Amazing Chase
07 Sep. 2021
Winning the Tour de France, albeit with a twist!
TEXT / JACK THOMPSON | PHOTOS / JACK THOMPSON
A 3-year dream to ride the Tour de France has finally been realized. Jack Thompson (@jackultracyclist) recalls sitting up late at night as a child and watching the world's best riders race their way through France. Though his cycling journey has taken him down a different path, he hasn't let this stop him from living his dreams.
This July, Jack won the Tour de France, albeit with a twist! Jack gave the peloton a 10-day head start and then chased them to Paris. Riding two stages a day, Jack's goal was to ride the TDF as fast as possible. Where the TDF peloton transferred in cars, Jack transferred in cars. With a total of 3,500km of riding, 52,000m of elevation and 24hrs of car transfers, Jack completed his goal in just 10 days, beating the peloton to Paris!! This is his story.

Day 0 | Netflix & (try to) chill
"After all the training, the logistical prep work, and the planning calls… it hasn't actually felt real, until now. Getting together in Brest, doing this interview… I'll be honest with you, I'm really f$%&ing nervous… it feels surreal that I've been planning this for three years and suddenly it all starts tomorrow. I've been trying to avoid watching the Tour this past week because it seems like the peloton is just getting further and further away. We watched today's stage and yeh… I just can't wait to get riding now."
The Tour has been and gone in the quaint coastal town of Brest, Brittany but Jack is here and raring to go. Today has been spent killing time and containing nerves - an easy shake-out ride here, a cheeky catnap there. Giving in to temptation (and peer pressure) to switch channels from Netflix & Chill to the Ben & Tadej show.
A relaxed interview about the shape and size of this thing (not to mention the rollercoaster of emotions to get to this stage in his journey) and one final check through of the bike, kit, tech, and tomorrow's route profile - a casual 350km and 4,500m elevation to get the ball rolling.
And just to make things interesting - the weather forecast is 100% chance of rain. 40 winks and then The Amazing Chase begins in earnest.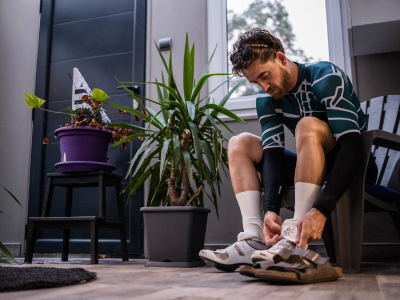 Day 1 | The chase begins
"The theme of the day was wind and rain, but fittingly the sun came out to play at the end of the second stage. To me, that always represents the light at the end of the tunnel. The body felt great and the power was good today, and as a bonus, we got through a full 400km meaning we're about 50km ahead of schedule after the longest day of the 10 days." - Jack
Zero to one hundred thousand raindrops real quick. And the most glorious sunset to end it.
Rolling out from the official site of the 2021 Grand Départ in Brest at 6:45 am, Jack covered stage one's 210km and 3,200m of climbing in just shy of 7 hours. In his pre-ride interview yesterday he told us how he'd been avoiding watching the Tour so as not to overthink the distance and challenge ahead.
But with each quaint Bretagne town passed this morning, and each yellow, green and polka dot jersey hung in shop windows and on street signs, it was hard to ignore: the Tour has been here, and the chase is well and truly on.
Rolling across the finish line for stage one in Landerneau, a brief pat on the back and a tick in the box was all we had time for - the 90km transfer to the start of stage two in Perros-Guirec giving Jack the chance to eat and rest before his rain-soaked 183km second stage of today began - and a double ascent of the infamous Mur de Bretagne awaited.
If 7 hours on the bike this morning wasn't enough, adding another 7 in the pouring rain this afternoon definitely drilled home just how enormous this chase is. The only respite coming in the form of 15 minutes of glorious golden sunshine before Jack took on the Mur de Bretagne to finish off a huge Day 1 of The Amazing Chase.
Day 2 | No easy days
"It was a good day on the pedals today. I had quite a lot of headwinds this morning which was a bit worrying as I had a fair whack of the riding still to go. There was a massive downpour as I started the second stage and I thought sh!t this is going to be a long day. But in the end, I had a tailwind for most of the afternoon, which was quite a nice feeling. To be honest, though, the roads weren't very pretty and there was not much to write home about, it sounds silly but they were just boring roads. Jumping into the RV at the end of the ride, I scoffed enough pasta to feed a small family, so the good news is the appetite is fierce and the body seems to be working well." - Jack
After an absolutely mammoth 400km Day 1 concluding with a late transfer, a handful of hours of sleep, and non-stop howling wind overnight, Jack was glad to have a slightly easier start to Day 2. On paper, at least…
Stage three of the 2021 Tour was always going to come down to a sprint; it featured relatively flat parcours on mostly big roads. But just like the unpredictability of the first week of the race, this morning's 188km stage of The Amazing Chase threw Jack a couple of curveballs too. Wind and more wind meant getting into a rhythm was tough.
Still, after the torrential rain of Day 1, the dry roads of Day 2 were a welcome relief. And after completing stage 3 and resting his legs during the transfer to the start of stage 4, Jack was raring to crack through the 150km needed to complete the day.
Although rain briefly fell as he rolled off the start line, the rest of the stage was as smooth as the lead-out that took Mark Cavendish to his first Tour win since 2016. This just so happened to be the finish line of today's Amazing Chase, in Fougères.

Day 2: Part 2 | A changé of plan
"It felt like a bit of a dream really. I'd sort of settled down, my heart rate was down and I was recovering. And then boom… I had to get straight back into it. It reminded me of a night with a mate back home when we were little. We were bored at home and we decided we were going to go out for a mountain bike ride in the middle of the night. It was almost like that…just quiet and still."
As anybody who has ever watched a Grand Tour knows - and everyone who followed the first week of this year's Tour - even the 'easiest' of stages and the best-laid plans can still go awry…
After rolling in to finish of Stage 4 at 9:30 pm and transferring the 45 minutes to the hotel in Changé, Jack was keen on two things: a hot dinner and a good sleep. With the Stage 5 time trial on the cards first thing in the morning and two huge days already in the books, it was time for some rest. Or so he thought.
Cue an overbooked hotel (despite a reservation), as well as the two backup hotels unavailable courtesy of a virtual reality conference being held down the road. With the closest available hotel over an hour drive away, the call was made (at 11:30 pm and had just ridden 350km) to get on the bike and hammer out the Stage 5 time trial in the dark, before transferring the 2 hours to Tours for the start of Stage 6 in the morning.
Jack is a man on a mission. And there's absolutely no stopping him.
Day 3 | A beeline for the mountains
"More straight stretches and more wet weather today which made for some pretty sh!tty riding conditions. It's difficult to zone out when you're riding on these dead flat roads and there's no shoulder, it's raining, and there's trucks. You've got to be wide awake just to keep safe. I never thought I'd say this but I'm really looking forward to getting stuck into the climbing now, just so I can zone out a little bit and have a bit of a change of scenery. I really enjoyed riding through the small towns today, just to see a few people, and it stimulates the mind a bit. Let's see what the next few days brings."
Today was a relatively straightforward one for Jack – literally. The dead straight roads of central France made for an easy enough stage 6 this morning, setting off bright and early after a late finish, refueled and ready to ride the 160km from Tours to Chateauroux.
It was later in the day that the tactical decisions were made and a plan put into action. With stage 7's 250km route a little too far to ride in one afternoon, Jack made the call to complete the first 150km and have an earlier night to rest and recover before taking on the final 100km tomorrow morning.
After 400km on Monday, 380km yesterday, and 310km today, he's ahead of schedule and excited about a change of pace, position on the bike, and the promise of some truly epic days in the mountains.
Day 4 | A (not so) warm welcome to the Alps
"That will go down as probably one of the hardest days on the bike, ever. It was wet. Seriously, seriously wet. It was seriously cold and seriously miserable. I was so cold at one stage that I almost shivered myself off the bike. It was actually quite hard to keep the bike steady-going downhill. It was a little bit dangerous at one stage, so I decided to pull over and warm up a bit, as I felt I was doing damage to my body. One of the things I've learned doing these things is the importance of listening to the body and today was a good example of that. In the past, I would have just pushed on and dug myself a hole. But I decided today to stop, warm up, and then get going again. It was definitely worthwhile, I'm just hoping for better weather tomorrow."
In stark contrast to yesterday's straight roads and never-ending farm landscapes, today was continuous mountains and continuous rain. Torrential and freezing for over 250km.
After ticking off the first 150km of stage 7 yesterday, this morning was all about finishing the second half of the stage before transferring to Oyonnax for stage 8. Into the mountains, Jack rode, and as the road pitched upwards it became clear: we're in the Alps, and these mountains are something to behold.
Stage 8 took Jack from the Auvergne-Rhône-Alps in eastern France towards Switzerland to begin the first categorized climbs of the Tour; Côte de Mont-Saxonnex, Col de Romme, and the iconic Col de Colombiere.
With 50km to go, after a break to warm up and reset physically and mentally, Jack got back on the bike and pushed through the three hardest climbs of the day in fading light, making it to the finish line in eerie darkness.
Day 5 | A game of two halves
"The theme of today was definitely highs and lows. I started feeling low after yesterday's sh!tty weather and fatigue but the high of getting in the car with the gang at the top of Tignes was amazing.
From here on out there's not going to be an easy day. I've got a lot of climbing to come and a lot of tiredness in the body. I finished off today feeling good; I had a good rhythm and with 40km to go I took the earbuds out to enjoy the quietness and the last of the sunset. There were no cars and the first of the sunflower fields were out which was really nice.
Doing these kinds of events is a huge rollercoaster. I have big mood swings over the smallest things when I'm tired. But it's also what I love about it: this is what I'm here for."
4,500m of climbing before lunch sounds like a tough ask, right? How about 4,500m of climbing followed by another 190km to back it up?
Jack is now officially halfway through The Amazing Chase. He's ridden 1680km in just 5 days. Stage 9 took him from Cluses, near the Swiss-Italian border up, up, and up to the stunning lakeside resort of Tignes. Once completed, Jack jumped in the van and headed for Albertville and the start of stage 10 - 190km of relatively flat terrain that took him to Valence, and late into the evening.
He is now making serious inroads to catching the peloton. Part two of The Amazing Chase awaits.
Day 5: Part 2 | Extra time
With time and distance pressure beginning to mount, planning and execution took a step in a different direction last night. Although The Amazing Chase can be broken down into the simple concept of two stages per day for 10 days, the reality is far from this.
To complete the challenge and beat the peloton to Paris, Jack is needing to cover an average of 350km a day - come rain, hail, sunshine, or mountains.
In the small hours of this morning, having already completed stages 9 and 10 in a massive 347km day with over 5,700m of climbing, Jack and the team decided to get a head start on stage 11.
Transferring the 1.5 hours from the finish of stage 10 to the start of stage 11, at 1 am Jack set off to ride the first 70km and keep himself on track. Finishing at 3:30 am in Apt, at the base of Mont Ventoux, Jack is pulling out all the stops.
A few days ago we said there were no easy days in the Tour, and that is sure proving to be the case…
Day 6 | It's OK not to be OK
Ventoux. Ven-two.
A stage that had been hyped up for months leading up to the Tour, and subsequently The Amazing Chase. Two ascents of one of the most iconic climbs in cycling: the Giant of Provence, Mont Ventoux. Stage 11 was always going to be tough physically…perhaps it's easy to overlook how tough it was going to be mental.
On Jack's helmet, there's a message in multiple languages. It says 'It's OK not to be OK'. This is a message Jack's carried with him through some of the darkest moments of his life and it's one we all saw in motion yesterday. With days of sleep deprivation, almost 2,000km and over 25,000m in his legs, cracks began to show.
It's OK not to be OK.
As the second ascent started, Jack's friend, coach, and mentor could sense he wasn't quite right. @coach_zippy was alongside Jack for his distance world record in Seville last year and in Portugal for his South-North record earlier this year, and knows simply by seeing the way he pedals that he's not himself.
Towards the top of the climb, Zippy hopped on the e-bike and rode alongside for the final kilometers. After 65 hours alone on the bike, having someone to chat with was all Jack wanted and needed.
It's OK not to be OK.
Ventoux has plenty of stories written about it. The windy mountain. But what about the stories it writes for us?
Day 7 | Burning the candle
"Something I realized this morning was that I was getting a bit sick of looking at the distance and speed on the screen. So I flicked over to the map instead and it was just like… peaceful. I've been getting so caught up in all the numbers of the challenge - the watts and time and kilometers - that I just needed to look around and take it in. I realized that's why I started cycling, to begin with. Simplifying everything and learning to soak in what I'm actually doing was a huge mental boost. I actually really enjoyed today."
With the double ascent of Mont Ventoux done, plus another 160km for stage 12 completed the same afternoon, it was on to stages 13 and 14 yesterday.
After a slightly earlier night, Day 7 started at the crack of dawn in order to beat the heat and crack the back of an absolute monster day ahead: 415km in total, made up of 226km from Nîmes to Carcassonne for stage 13, followed immediately by 187km from Carcassonne to Quillan for stage 14. Just a casual 4,800m of climbing across the two stages thrown in for good measure.
The sun was out and the rolling French countryside was the perfect place to ride and reflect, giving Jack the chance to look back on the previous week of riding.
Jack now rides into Andorra for the first of the big Pyrenean stages and is on track to catch the peloton during their rest day today.
Day 8 | Caught napping
"I am pretty cooked, to be honest, but yesterday was actually super nice. It started out with plenty of climbing, but they were climbs I'd done before so I knew what to expect. I didn't realize I was going to see a couple of familiar faces as well. Familiarity with trips like this is really good for the mind. We got the first stage done and then descending back into France the weather got sh!t again and that set the tone for the afternoon. But it was cool because it was the first time I was actually in front of the peloton and I got to see people out on the road, caravans, stuff like that. There was a great vibe seeing everyone out there, excited to watch the race."
The day of the catch. And the first of two gigantic climbing days in the Pyrenees. With 2 am bedtimes, 5 am alarms, over 83 hours, and 2,270km on the bike, exhaustion has set in. The relentless nature of The Amazing Chase means there's been no time to stop, even whilst the pros have their feet up.
Thankfully for Jack, Day 8 had a few nice surprises in store…
On stage 15 into Andorra, Jack met up with his mate, fellow Australian and World Tour pro, Michael Hepburn, and was then joined by Tim Johnson and Phil Southerland of Supersapiens. And atop the final climb, there were a group of cyclists eagerly awaiting Jack's arrival.
After starting in deep fog for stage 16, Jack crossed three cols in the soaking rain, riding late into the dark. As a surprise, Tour commentators Simon Gerrans and Anthony McCrossan came out onto the roadside to give Jack a cheer and some final motivation to get him over the line.
After 8 days on the road, we can finally say it: the chase is complete, and Jack now has the peloton in his rear view mirror. One last push to Paris.

Day 9 | King of the mountain
"Yesterday, what a day. A last little tester with a whole lot of climbing, with some very tired legs. I had my trusty yellow cap with me which the boys collected from the previous night's finish, so I felt like I was being guided by the yellow spirit.
The Portet was probably the hardest climb so far, it felt like climbing up to hell, rather than heaven, to be honest.
I found a really good rhythm on the flat section before the Tourmalet, and going up I was all good too. It was the first time I'd used the caffeine, so I got a nice little buzz. I had some nice mixes on and found my own little world really. At the top conditions were pretty hairy so it wasn't a smart move to descend into darkness.
So we called it a night, got a few hours sleep, and descended the Tourmalet bright and early to get today off to a freezing cold flyer."
Another day, another two monster stages on the menu. Stages 17 and 18 boasted some of the most brutal climbs of this year's route - Peyresourde, Val Louron-Azet, Portet, Tourmalet.
But now that The Amazing Chase has become "the amazing break", there's no shortage of fans camped out on the roadside, getting ready for the race to arrive With plenty of cheering adding to the vibe of his achievement, yesterday was a chance to let the past 9 days sink in.
Jack gave the peloton a full week head start and tomorrow he'll beat them to Paris. The champagne is on ice.
Day 10 | The ultimate time trail
"I could definitely taste Paris yesterday, which made rolling out from the top of the Tourmalet that bit easier. I've become accustomed to the rain, so even though I don't love it, waking up to it was no surprise.
It was amazing to get to the top of the last climb, Luz Ardiden, and know there were no mountains left. The barriers were out for the race and it felt pretty special. It made me quite emotional, to be honest. A mixture of happiness and relief.
In contrast, the final road stage was just so tedious. Flat, on busy roads, with a continual cross headwind… a change from the peace of the Pyrenees. So wrapping up that stage was a big relief, and then the TT was more like a cool-down ride, riding through the vineyards with the guys blasting music from the car. It was just a really fun way to end the day."
When the Tour de France was created in 1903 it was designed to test the toughest of cyclists: climbing mountains, battling crosswinds, rain, and baking heat, and ultimately, finishing. The first edition of the Tour had 15 entrants and a handful of finishers.
Beginning in 2 degrees and fog at the top of the Col du Tourmalet (having ridden its ascent the previous night), Day 10 was to be the ultimate all-round test for Jack.
With an Hors Categorie climb left to finish stage 18, a long and windy 'sprint' stage to complete stage 19, and an individual time-trial for stage 20, it was a day with the lot; the perfect way to tease out the last bit of energy Jack had in him.
With only the processional stage into Paris remaining, we're all in high spirits. Jack gave the peloton a 9-day head start, and it's now time to finish what he began before watching the race roll in on Sunday.
Champagne on the Champs-Élysées
Jack set out to ride the 2021 Tour de France route as fast as he could. 3,552km divided over 21 stages, chasing down the pros on his way to Paris.
What would it take? What was realistic? What was possible?
Now we know.
10 days, with a warm downstage on the Champs Elysees - as per tradition.
Jack dreamt up The Amazing Chase three years ago, and it has taken until 2021 to complete. What he didn't quite expect was the rollercoaster he'd go through while doing it. Simple factors like the weather and fatigue are easy to talk about (and important to acknowledge), but also the internal battles that aren't always easy to see, much less discuss, work through and write about.
When we interviewed Jack the day before he rolled out, we asked him if he thought the challenge would be difficult. What we didn't expect him to reply was 'no'.
What he told us was that when you've suffered through depression and darkness and loneliness, riding a bike 350km a day is manageable. You pedal, and you keep on pedaling. And like opening up about mental health issues, you make it out the other side stronger and more experienced.
It's OK not to be OK.
Because by opening up, and with the support of your family and friends, you will make it out the other side.
The Amazing Chase has been more than a bike ride, as incredible as the ride itself has been (stats below) - it's been a chance for Jack to push himself beyond what he's done before, both physically and mentally.
We (Jack's support team and media crew, as well as his partner, Laia) were each lucky enough to get a full lap on the Champs Élysées alongside Jack as he finished the final 60km of the journey yesterday.