Light up your ride
We designed the StrikeDuo series to offer a light combo that suits any kind of ride. The StrikeDuo front lights come in several versions, making sure there is always one that fits your kind of ride. From the 1200 that focuses on getting you safe through the city or over backroads, to the StrikeDuo 2000 that will light up even the darkest of trails or forests.
All StrikeDuo lights feature double LEDs and oval lens technology, so there is always plenty of light pointing in the right direction. There is an optional remote control (standard with the 2000) that will make controlling the light easy and safe. The dual lithium battery lasts up to 200 hours, so you can ride nights on end without charging.
DUO LED WITH OVAL BEAM
Two LEDs for a higher light output, superb optics and a glare-free, oval beam.
ONE PIECE OF ALUMINIUM
This ensures optimal heat dissipation, making the light extremely sustainable.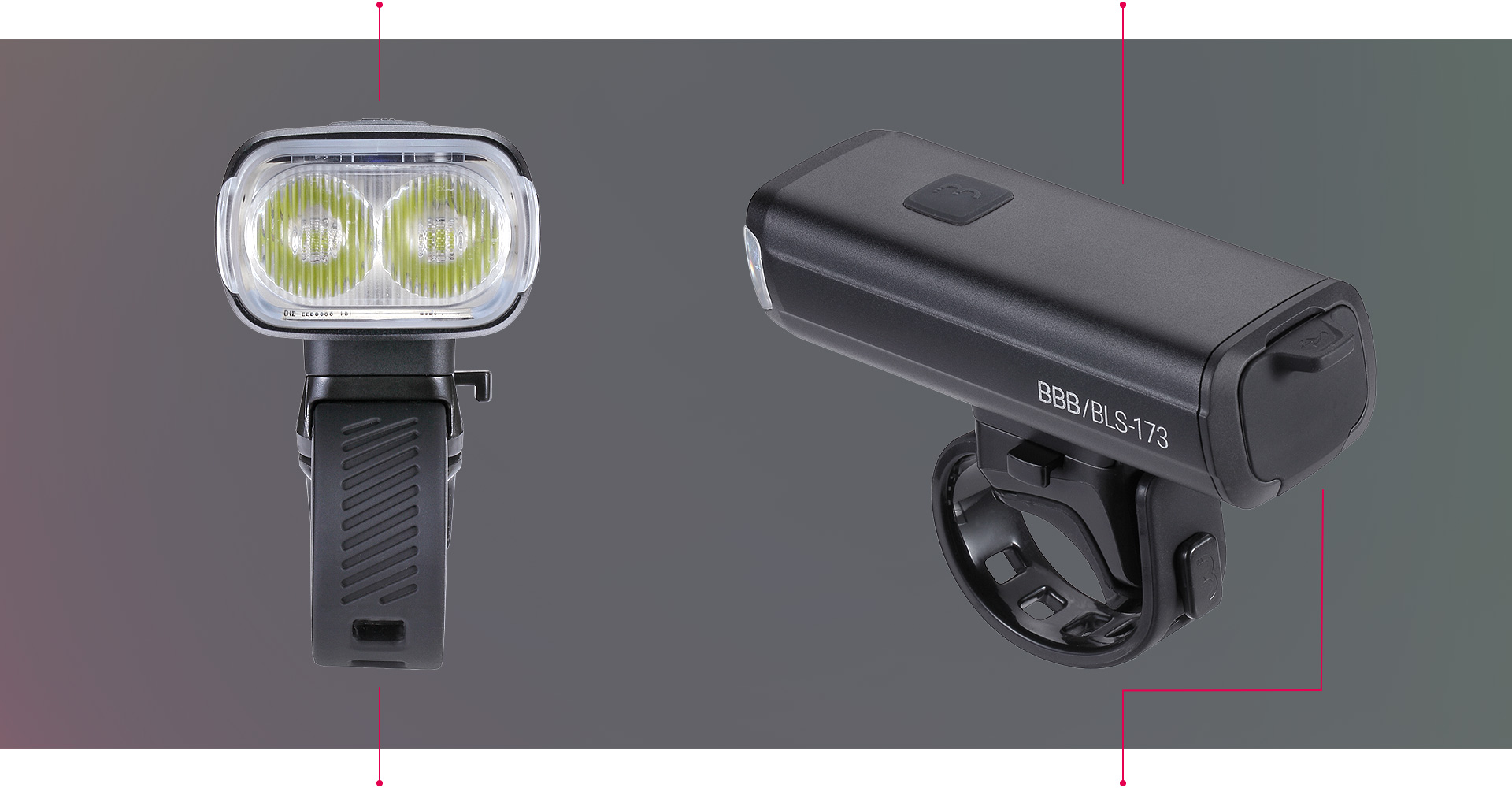 SECURE HANDLEBAR MOUNTING
The light comes with a bracket that can be mounted on round and aero handlebars (Ø22-52mm).
FAST CHARGING
Designed to last for up to 200 hours thanks to the two large Lithium ion batteries. Supports 2A charging via USB-C.
See and be seen
But looking ahead is just half of staying safe. Being seen where you can't see is maybe even more important. So we developed smart rear lights, like the Signal. A sleek light that you will never forget to turn on, as the whole light is used as a big on/off switch, making it super easy to use, even when you're wearing gloves. So there are no more excuses to ride without being seen!
Can't wait for winter
So whether you're a full-fledged winter warrior who will face anything that is out there in the dark or you're happy to just head out for a quick spin in the winter weather...  you want to be and feel safe riding. The BBB Cycling StrikeDuo and Signal will brighten the dark days and can take a beating while doing that. They're completely weatherproof, come with smart and sturdy straps, and are designed to make sure you see and will be seen during the dark days.
Specification Strike Duo series
Strike Duo 1200 | BLS-171
MODES | Boost, High, Standard, Low, City, Flash and Day Flash
LUMEN | 50 - 1200 lumen
BURN TIME | 1:45 – 100:00 hours
WEIGHT | 185 gram
BATTERY | 18500 Lithium Ion battery - 3200mAh
CHARGING TIME | 2:30 hours (1.5A)
Strike Duo 1600 | BLS-172
MODES | Boost, High, Standard, Low, City, Flash and Day Flash
LUMEN | 50 - 1600 lumen
BURN TIME | 2:00 – 160:00 hours
WEIGHT | 214 gram
BATTERY | 18650 Lithium Ion battery - 5200mAh
CHARGING TIME | 4:00 hours (2A)
Strike Duo 2000 | BLS-173
MODES | Boost, High, Standard, Low, City, Flash and Day Flash
LUMEN | 50 - 2000 lumen
BURN TIME | 2:00 - 200:00 hours
WEIGHT | 218 gram
BATTERY | 18650 Lithium Ion battery - 6700mAh
CHARGING TIME | 4:30 hours (2A)
Testimonials from our Backyard Crew
Leandra
"The StrikeDuo 2000 really gives an incredible amount of light. I sometimes jokingly call the StrikeDuo 2000 'my construction lamp'. The lighting ensures that I have a perfect view in all conditions while cycling: it does not matter whether I am already on the road in the early, dark hours of the morning or still pedaling in the middle of the night. The enormous beam of light also ensures that I feel safe while cycling: other road users can certainly not overlook me. With its long battery life, the lamp is also ideal for all my long-distance adventures. I eagerly made use of this during Race around The Netherlands, but this lamp also comes with me during spontaneous gravel rides in the evenings. I can no longer live without it."
FatPigeon
"How we like the DuoStrike 1600? The lamp provides a great amount of light and if you use the 5 strengths wisely, it will last a long time. For road races, lighter lighting lines are more suitable. This new model is sure to go along with adventures over unpaved and multi-day adventures."
Douwe
"I have been cycling with the StrikeDuo 1200 for about a month now and I must say that I am very happy with it. During my work as a bicycle courier, I regularly cycle in the dark and I would like to be seen in the bustle of the city. You definitely don't have to worry about that with this lamp. At high-mode, the whole city knows where you are! (Be a gentleman/ lady in traffic and don't put it on the highest setting in the city.)

With the supplied rubber strap, it is easy to place it on any type of handlebar. One button, super simple. Tip, put it on your racing bike upside down for a better look.

The battery lasts longer than I expected. After two night shifts, it still wasn't empty. And when the battery is empty, you can easily charge it with the USB-C port. This lamp really comes to life off the beaten track. It's like carrying a headlight from your car. It's amazing that so much light can come out of such a small device."