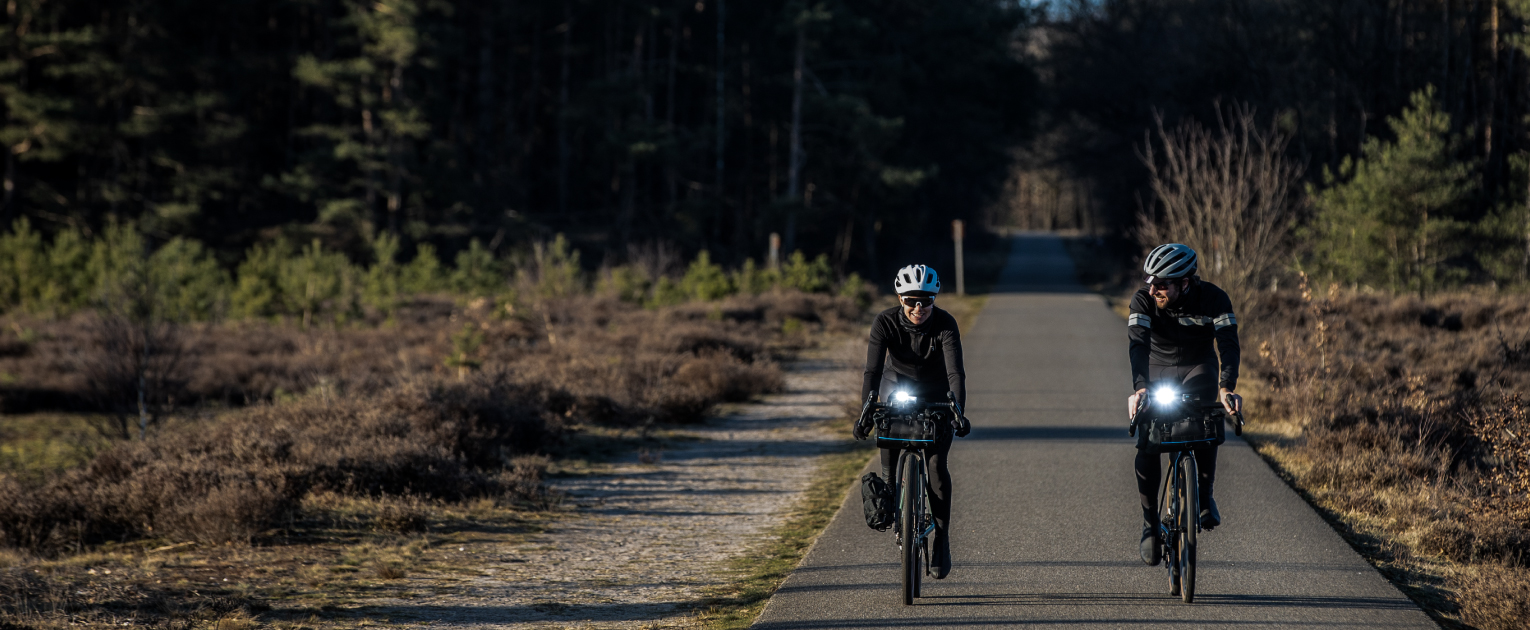 How to find the best light for your bicycle
30 Nov. -0001
A light for every ride
The meteorological autumn has started again and that means that the days are getting shorter and the nights longer. Of course, this is no reason to leave your bike inside, because you can cycle to work all year round. A little rain, strong wind, and leaves on the road won't stop you. Let alone the darkness that reigns when you ride your bike to work. As long as you can ride safely, you'll keep on riding. And with good lighting, you can make yourself visible and keep your eyes on the traffic.
In this blog, we describe which lights you should choose in the situation in which you cycle the most. We distinguish four different situations which all require a different light.
1. Lights to use in the city
Do you always cycle through the city? Where there is sufficient street lighting to make the surroundings visible. Then you can already see your surroundings from your bike and you need bicycle lights that make you visible to other road users. These are usually small lights that are easy to attach to your bicycle or clothing. They give a maximum light output of 150 lumens and are price-friendly.
Spy
Never want to be surprised by the dark in the city again? Then put the multifunctional Spy lights in your backpack or handbag. These compact lights are ideal for use in the city. Convenient and quick to install on your bike with the rubber o-ring. The SpyCombo (front and rear light) is available in two types.
The battery-powered version (BLS-123) is extremely long-lasting, and the USB version (BLS-127) with an even brighter light. If you choose the option with batteries, you can be sure that it will last up to 50 hours, or even up to 150 hours in flashing mode. The USB, on the other hand, gives you the option of simply charging the lights from your computer at home or at work.
Signal
Are you going for extreme visibility and a huge amount of light in every direction? Then the Signal is the solution. These lights give a bright light in the form of a white or red COB LED. Even when you come across very dark places in the city, these lights will provide you with enough light. With the silicone strap, they are easy to mount both horizontally and vertically, from seat post to handlebar. And because of this, you can use them on all types of bicycles.
2. Cycling on illuminated bike paths
If you cycle out of town on the way to work but stay on the lighted cycle paths. Then you will need bicycle lights with a larger beam. Lighting that makes you highly visible while there is just a little less light in the area. Lighting that guarantees your safety and ensures that you can also discover any unevenness in the road surface in time.
Stud
The Stud provides you with a nice beam on the street, without blinding oncoming traffic. The lamp has three settings so you can use it multi functionally in and outside the city. With the push of a button, you can switch between the large and small beam, and you also have a flashing light at your disposal. Recharging can be done anywhere and with the greatest ease by means of the USB input.
3. Cycling on unlit bike paths
If your route (to work) takes you along unlit cycle paths. Then you want bicycle lights that make the entire road clearly visible. After all, you want to see the holes and bumps and not be surprised by these obstacles. So you need a bicycle light that illuminates the entire road surface and gives you enough light to keep riding safely.
NanoStrike
With the NanoStrike, you are assured of a bicycle light with a large beam that will make everything that happens in front of your bike visible. This lamp has the best ratio between light output, weight, and size. A small but powerful headlamp that helps you safely through the night.
Available in a 400 or 600 Lumen version packed in a super handy and small lamp. The aluminum cooling system prevents the lamp from overheating and makes it more durable. And the special daytime flashing light mode keeps you safe even on unsafe roads at any time of day!
Strike
With the Strike, you will never again be overwhelmed by darkness. With this lamp, you are assured of perfect visibility in all circumstances. The seven settings make it suitable for both the busy city traffic and a pitch-dark country road. This multifunctional lamp has a reversible head so you can easily continue to operate it, even if you mount it under your handlebars. So you can cycle to work all year round without any worries.
4. In a nightly forest
If you are going to cycle through the forest at night, you need a bicycle lamp that gives an extremely high level of light. You want to be able to look far ahead so that you can see all the changing circumstances in good time. For this, you need a bike light that gives you absolute freedom to ride as fast as during the day.
StrikeDuo
With the StrikeDuo, you get our most extreme bike light with the best light display thanks to the advanced lens system. Available in three variants with 1200, 1600, or 2000 lumens, you can fully illuminate roads and trails. With a one-piece aluminium housing that ensures the heat of the lamp is optimally dissipated.
These headlamps feature an oval beam with two LEDs for higher light output and the best optical qualities. The lamp is waterproof, can be charged via USB-C, and is fixed on your handlebar thanks to the silicone strap.
The BBB bike light is in your hands. The XML Cree LED has an output of no less than 1500 lumens. This leaves no spot in the forest unlit. You can mount this lamp with the handlebar and helmet mount on different. This allows you to choose to steer the light from your helmet or keep it steady on your handlebars. And with the water-resistant aluminium housing, you can withstand all weather elements. No rain will therefore deprive you of light.
All the information about our bicycle lighting at a glance?
Would you like to see and compare all our bicycle lights in a row? Then take a look at our lightning table.