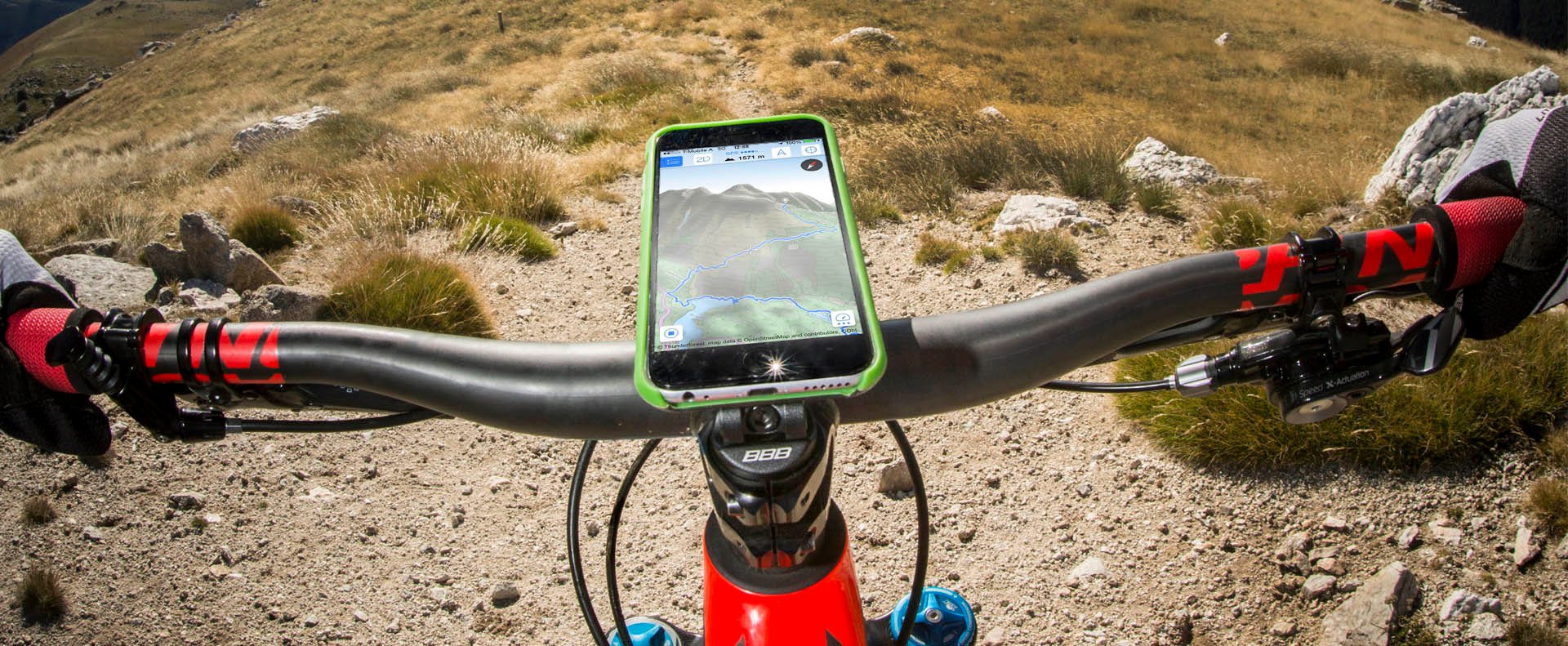 BBB bikeboard app
02 May. 2018
BBB Cycling's approach to a riding app
After introducing Bluetooth enabled sensors for heart rate and speed/cadence and a ground breaking phone case last year, we felt there was a need to introduce a proprietary BBB BikeBoard ride registration app.
Following BBB's design philosophy of stripping products down to a no nonsense version, we aimed at introducing a reliable and battery-friendly app. No unnecessary buttons and features, yet it does have everything that we feel is important. A 'straight to Strava 'upload, easily customizable layouts for your data screens and a direct link to your sensors from the 'Current Workout 'screen. But most of the clever choices are 'under the hood'. Processor usage was limited as much as possible to minimize the strain on your phones battery. Choices in data registration and filtering have been adjusted to come up with the most exact representation of your ride, including that one break where you schooled all your riding buddies.
App features
Customizable layout & pages
Drag & drop feature for layout arranging
Connect & manage BCP-61/62 Bluetooth sensors
GPS tracking with map view
Always reachable quick settings
Workout history with ride details
Direct Stava upload or .GPX/.TCX export
Native iOS feel
Multiple bike feature
Keep-awake & auto-pause feature
App tutorial
Main screen
On the main screen you'll find a total of your rides and an overview of your last ride. On the bottom you see three tabs:
Record: The current tab where you can start a workout and reach the quick settings.
History: Where you can find the rides you've done.
Settings: Here you can set you user data, manage your bikes, configure sharing settings and find additional info.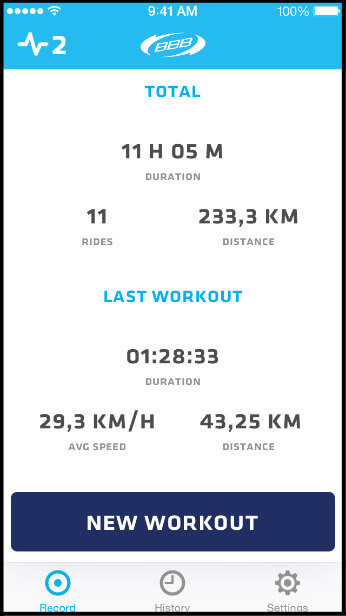 Quick settings
Quick settings is accessible by the top left icon, which also shows connected sensors. In quick settings you can:
Add and configure sensors.
Choose what data source to use for the speed stats.
Toggle "keep screen awake" and "Auto-pause".
To add a new sensor tap the "+" on the top right, it will automatically search nearby sensors. Make sure you turn on the sensor, by either wearing the heart rate strap, or swing a magnet along the speed & cadence sensor. Once you have a sensor added, tap it to configure the sensor. You can adjust the sensor name, wheel size and link a sensor to a specific bike. The signal quality of the sensor can be seen behind the name. There are three colors possible:
Light grey: sensor has been connected once, but is out of reach.
Dark grey: sensor is properly connected but not associated to a bike.
Blue: sensor is properly connected and active for this bike.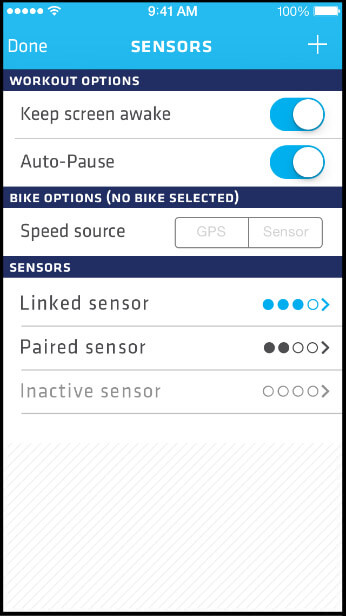 Start a new workout
To start a new workout tap the big blue "new workout" button. If you added a second bike, choose the one you are going to ride. You can see which sensor are associated and connected behind the bike's name. Now you are on the workout screen. This is going to be your main view during you rides. Once you are set to go, press the play button on the bottom. With the auto-pause feature, your workout will automatically pause whenever your bike is stationary. If you have a break you won't need to worry about the Bluetooth connection, it will automatically re-pair once it is in reach. Once you are done riding pause the workout then tap the stop button, this will save you ride. If by any reason your app would crash during a ride, it will always save until the last located GPS position.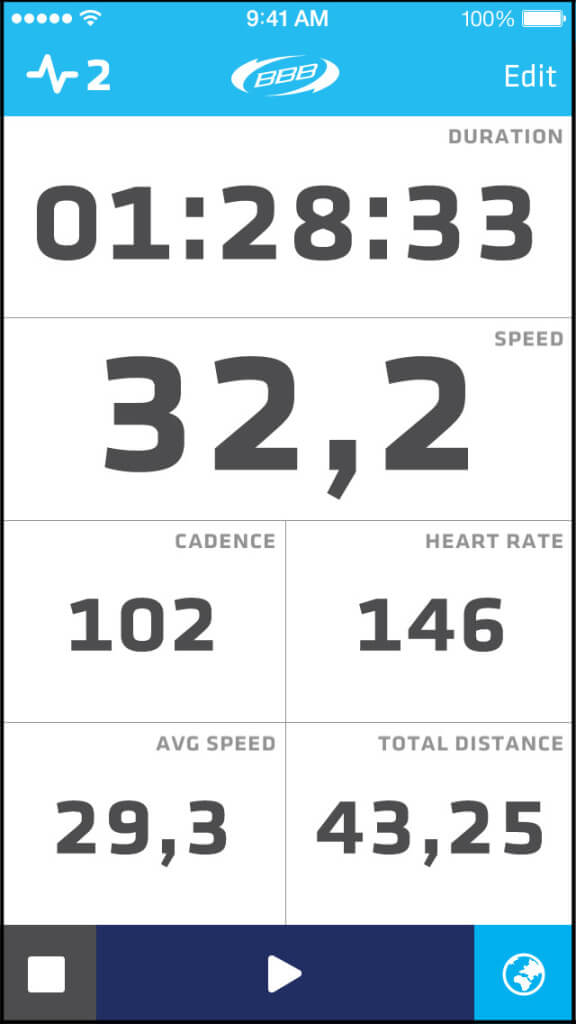 Adjusting the lay-out
You can adjust the stats on the screen to your liking. Tap on the "edit" button to open the available stats. Check or uncheck the stats you would like to display. Once you're ready, tap "done" to get back to you workout screen. You'll notice all the stats have been added. You can also rearrange the cells to your preference. To do this tap and hold a cell to rearrange just like you would on the iOS home screen. To remove stats, uncheck them in the stats list.
Map view
During a workout you can access the map view. Tap the bottom globe icon to show the map view. In this view you can see your current location and the track you've ridden so far. You can pan, zoom, and rotate the map view. To centre your map view, tap on the arrow in the top left corner. On the top of the map view, your current speed, duration and total distance is displayed.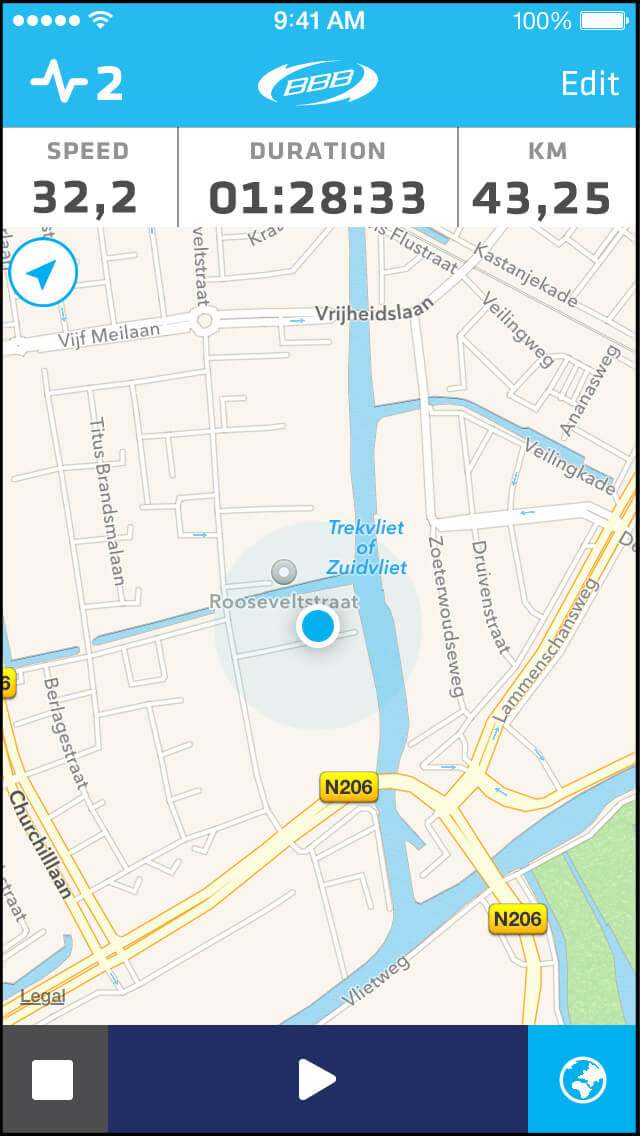 History
In the history tab all your rides will be saved. A short summary of total time, distance and date can be seen at the top of each workout. Tap on the workout to see more details Swipe left on a workout to reveal the delete button. You can take a look at your ride on the map view and expand it for a wider view. A summary shows all the ride details. Currently you can email your workout in .TCX and .GPX format, or upload it over to Strava.com immediately.
Notes
To decrease battery usage, lower brightness, quit background apps and turn off the "keep screen awake" feature to let your iPhone go standby, data will still be recorded in the background.
Due to GPS latency, the auto pause will only work if a sensor is connected.
GPS use in background will increase battery usage.
Turning off location services for the app will remove GPS info from exported files, this will cause Strava.com to see the workout as a "stationary trainer" ride.
User profile info will ONLY be used for calorie burning calculation.