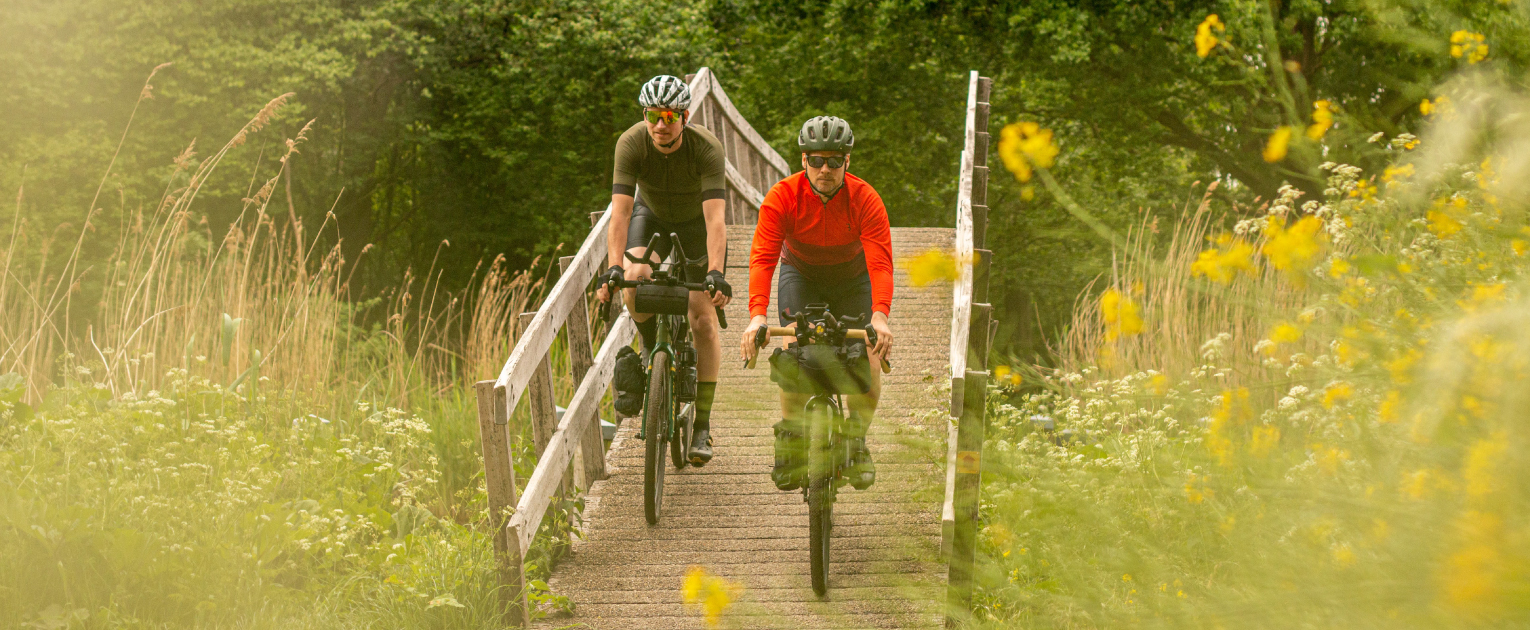 Tjerk's Bohemian Border Bash race
19 May. 2022
TEXT / BBB CYCLING | PHOTOS / BBB CYCLING
The Bohemian Border Bash race is a 1300 km route, unsupported, ultra-endurance, and offroad bike competition in the Bohemia. Two of our colleagues, Tjerk Bakker and Jan Kees Pennings, who work in the product development- and marketing departments are competing.
We were super curious to find out how they are feeling, prepare themselves and what their tactics are. They tell you how to approach a long-distance race like the Bohemian Border Bash. Read the answers below.
1. Introduction
Name: Tjerk Bakker
Job title: Senior Product Manager
Bike: Niner RLT9
2. First of all, how is it going with the nerves?
I'm not too nervous. 1,5 weeks before the race there is little left to train. So now it's time to pack things up and figure out exactly how I'm going to build up my bike. I'll do a test ride when everything is strapped to my bike but otherwise rest well before the race.
3. How has your preparations been?
I must say, not optimally. As a dad of two young children and with a full-time job it's pretty hard to "just" go training. Let alone long distances where you are gone from home the whole day. To give you an idea, the BBB race is 1300 km and that's about the same kilometers that I've done the entire year. But I've done a few long-distance rides and those didn't disappoint.
4. You are not a newbie when it comes to ultra-endurance races, which ones have you done in the past?
I've done the Race Around the Netherlands twice in past years and the Torino Nice rally (which is not a race but is a long-distance rally).
In the years before that, I've done various long-distance rides. When I was 20 years old, I did a 2200 km solo traversing through Norway and I've cycled to Barcelona from the Netherlands in one go.
For me, it's about challenging myself and finding those personal boundaries, in a race or outside of that.
5. What did you learn about yourself and the best way to go about such a race?
If you've ever crossed a physical boundary, you learn a lot. The trick is not to go over those boundaries if you want to perform day by day. The first day is crucial. You shouldn't be intimidated by others who are going faster than you. You have to find your own tempo and find a rhythm. Riding constantly is more important than riding fast.
And apart from that just take it as it comes. It's inevitable that I will come across an obstacle but I need to accept it and adjust. That's the beauty of an unsupported race. You have to figure it out all by yourself. It's not the best rider that wins but the someone who paddles constantly and adjusts the best to the circumstances.
6. What personal strength can you rely on during a race like the Bohemian Border Bash Race?
You should be able to suffer and constantly push yourself. To be able to travel a long distance you need to keep moving. Only stop when it's necessary. That means staying in the saddle for hours on end every day and get up early to continue no matter how good you feel in your bivy or hotel bed. During my previous races that always went pretty well and even though I was tired I could perform every day.
7. What products are you taking with you?
As little as possible and of course a lot of BBB products. For ultra-races I always create a packing list. A few items I take every trip with me. Because I know I will need them at some point and those products have proven to be useful. Apart from that, I adjust my packing list depending on the type of ride, de distance, and the circumstances. Lightweight is important but packing volume is even more so. It needs to fit. I will also test new products. As a product manager, I am at the center of the development of new cycling products and what could be better than testing everything yourself. But which products? Obviously, I can't say anything about that ;).
8. And last but not least, what's your goal for this race?
My first goal is to finish, if possible, in 5 days. And if a general classification is created, then the fastest full-time working dad ;).