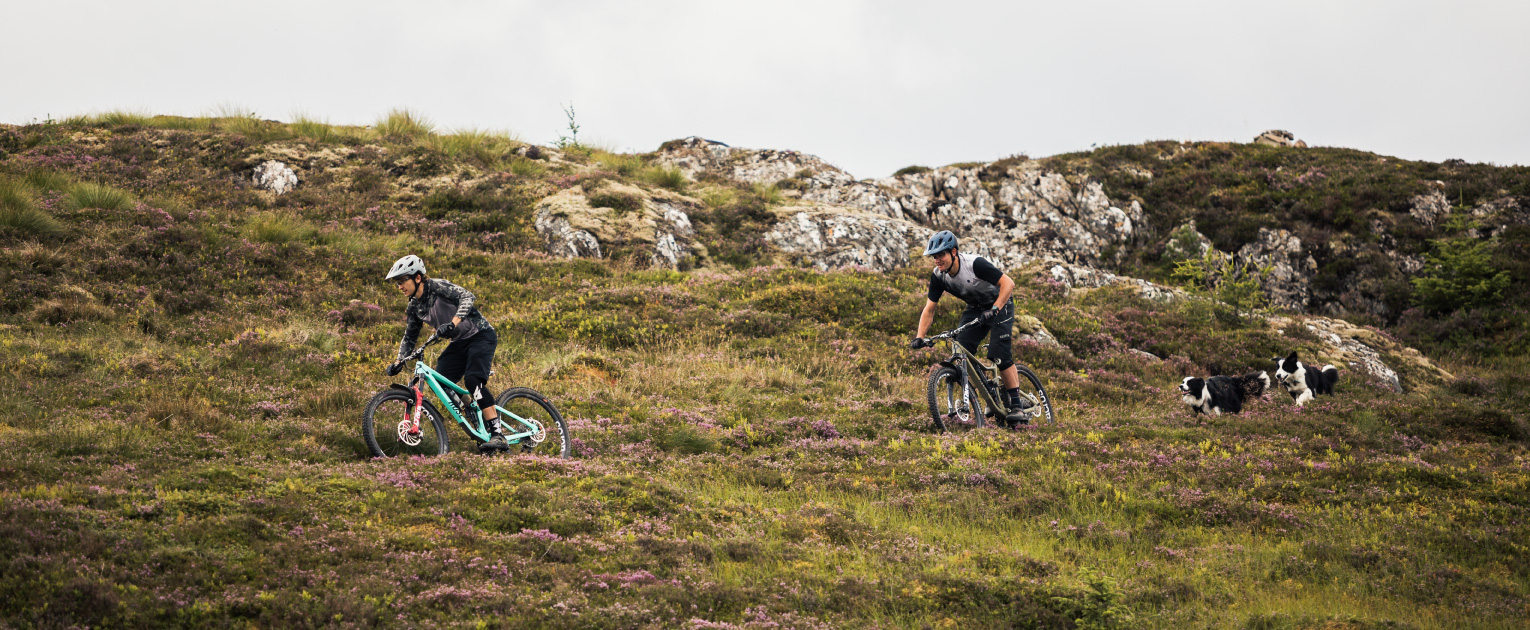 7 Years, 1 Brand – James Shirley and BBB Cycling
27 Oct. 2021
TEXT / JAMES SHIRLEY | PHOTOS / JAMES SHIRLEY
1. For those who don't know you, who is James Shirley?
I'm 32 years old and I still get way too excited about bikes! Haha. For some reason, I've always had this resounding passion to pursue life on two wheels and I think it's good to have some sort of hobby, sport or interest so if I can inspire people to get out there and do what makes them happy (whatever that might be) then I think I've achieved something. As far as my background goes, I grew up on a croft in the Highlands of Scotland and then I studied a Masters of Mechanical Engineering at the University of Strathclyde in Glasgow before going in pursuit of the full-time mountain bike life. It was perfect timing in a way because I always enjoyed racing cross-country and downhill but I knew I wanted to do something that combined both aspects and the year after I graduated was the debut season of the Enduro World Series.
2. You live in a van for a large part of the year, how did that come about?
Before 'Enduro' was a thing, there were already a few big and famous events in the Alps such as the Megavalanche and the Mountain of Hell which required good riding skills and a lot of fitness. The French know how to put on an event and these races are still some of the most exciting in the calendar. They are a mass start format with hundreds of riders lined up on top of a glacier who then race down at speeds of over 100kph before hitting the trails and finishing in the valley more than 2000m below. With this goal in mind, I'd train after classes at Uni and then drive out to compete during my summer holidays (whilst trying to balance some kind of part-time summer job too). Nothing in the UK compares to that style so I got accustomed to traveling long distances. The only way to make it cost-effective was to stay out in-between races and live in the van (I had a small blue T4, to begin with), camp, or just sleep on the ground under the stars/rain which happened a few times too many! In comparison to that, my modern van now is an absolute five-star luxury.
3. How did you first hear about BBB Cycling?
At the end of 2014, my then-new enduro race team manager (Joost Wichman) introduced me to the BBB Cycling brand. He had arranged for them to come on board as one of our sponsors and, to be totally honest, I didn't even know who they were. A few weeks later, Joost sent me a link to the website along with a spreadsheet to make a product order. I had a quick browse and oh-my-goodness there was a lot of stuff to choose from: Helmets, glasses, tools, pedals, saddles, clothing, cables, brake-pads… This was only my 2nd year of full-time mountain biking and I was still very much just a young man living in a big basic van (by this point I owned a rusty and unreliable LWB VW Crafter) for most of the racing season. I, therefore, went to town: knowing that everything would get well used, I didn't hold back. Helmets and glasses were obviously part of the deal since they were the most visible items but it was the little things behind the scenes that made the biggest difference. I got a bike stand, track pump, pressure gauges, workshop tools plus a whole load of gear that I could use for training such as bib-shorts, tights, gilets, jackets, saddlebags, winter gloves, night lights and the list went on. Some of these things I did already own but I didn't have enough spares for consecutive days so BBB Cycling became a very welcome sponsor of mine.
4. You've been an ambassador for over 7 years and a lot has changed since then. How do you feel the changes have affected you personally?
I guess the big change has been the strong shift towards social media use. When I first started, people had Facebook but the more traditional forms of media like magazines, films and web stories still seemed to be the most valuable. With limited internet access I would hardly use my phone and seldom do a post. I also strongly resisted Instagram when it first came out but nowadays it seems to be all that people really care about. In a way I hate it but at the same time, it's kind of magic. I carry a high-tech video camera in my pocket everywhere I go now which backs up as a convenient telecoms device. I use it to take cool clips and photos from all the amazing rides that I'm fortunate enough to go on and with access to mobile data almost everywhere I can easily share them with friends, family, and the rest of my followers. The demand for short, instant content is relentless but thankfully I get to ride my bike almost every day so actually, it's kind of easy! I also quite like the pressure of having to perform in front of the camera so it adds a new challenge to the day.
5. How would you describe your relationship with BBB?
At the end of 2016, I set myself up as a privateer racer and started to have a direct relationship with my partner companies. I really appreciate the closeness it brings and the opportunity to work with the product development staff as well as the marketing team. I, therefore, try to provide 3 useful avenues: my racing abilities, product testing/development and a bit of media creation too. I'm part of the Back-yard Crew which I guess is a cooler way of simply saying 'Brand Ambassador' and I think the relationship works well. I quite often take the overnight ferry from the UK to the Netherlands so I sometimes swing by BBB HQ for a catch-up if I've got time. New staff has arrived recently which brings in fresh energy and it's cool to meet face to face to share the enthusiasm that we all have for cycling – even if my discipline is a bit alien to what you'd typically find in the flatlands of the Netherlands!
6. What is your overall impression of where BBB Cycling is headed and how do you feel about that?
I'd say it's been subtle and incremental changes but certainly, the brand is going in the right direction and I'm stoked to be growing with it. I don't think it'll ever reach the luxurious levels of a high-end boutique brand but that's a good thing: cycling needs to be affordable, accessible and it needs to be practical. I'd struggle to promote a product that I wouldn't use or couldn't buy for myself. BBB is therefore sticking to their guns in terms of price points but the products have become way more refined. All the bases are still covered but the range has been streamlined which bumps up quality with a lot less overlap and the new logo definitely helps their appearance too. It's cool to see the progress.
7. And last but not least, how did your race season go? Any tips on how to prepare for a race?
Ooo, good question. My race season was full of ups and downs this year. It was a bit shorter than normal because of Covid restrictions and I had a couple of injuries/illnesses/mishaps that got in the way but, crucially, I did still have fun and I managed to win a blind 4-day stage race in Italy which was a really cool experience. That was probably the highlight and I'm looking forward to doing it again next year. Now to the interesting part…
Like with everything, practice makes perfect and relaxed focus is key. I think the best preparation is to try and replicate what you're going to be doing in your race during your practice at home. This means going as far as setting strict start times that you have to be ready for and carrying/using all of the same equipment that you'd need in your race so that when you're actually competing, nothing comes as a surprise and you're not in a panic worrying about what you might have forgotten. You want to feel that when you get to that start line that you're just going for a 'normal' ride… only that this time you really mean business!